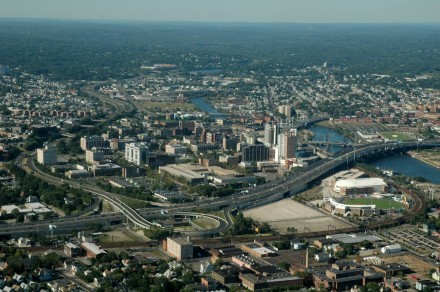 Two Boots took a walk on Downtown Bridgeport. Some hand-wringing is going on over this. Communications professional Doug Davidoff who resides Downtown says the neighborhood has a lot more going on than the naysayers assert. He shares in this commentary that follows a response to OIB comments and perspective as a relatively new resident.
I've lived and worked in Downtown Bridgeport for nearly six months now, walking the streets day and night with few real concerns for my safety. I like my new home a lot.
Since moving away from Fairfield County for college 40 years ago, I've lived, worked, and been involved in the planning process for downtown areas in Durham and Raleigh, N.C.; Indianapolis; the South Loop area of Chicago; and in an inner-ring suburb of Boston. I returned to Fairfield County last year and, having become adjusted to city life over suburban life, gravitated to Bridgeport's downtown. I'm so glad I did.

The Two Boots announcement is a shocker, but even more shocking: the tone of the analysis here. Some of you have lived in the area a very long time, but it's clear you don't know downtown intimately–like day and night, every day, months at a time. And you don't know how downtowns work–here, or anywhere.

So let's take up the news at hand: Two Boots closed. Restaurants come. Restaurants go. They had a good run. They were were the wrong size. The block they are on has six dining establishments by my count, from Leisha's Bakeria on Lafayette Circle at Fairfield Avenue to Fruta Juice, the new French-Vietnamese Can Tiin, 'A Vucchella, Bagel King and the venerable Murphy's. Three are relatively recent additions by local entrepreneurs.

Restaurants are often the precursor to more retail development in reviving downtowns. Restaurants come. Restaurants go. McDonalds closed on Main Street. A few doors down, the new owners of the Dunkin' Donuts franchise invested thousands in redecoration and modernization at the same time.

Sweet Treats opened. Funchal has two locations. Tiago's is great. Tony's too. Barnum. Metric. Amici Miei. Moe's More. Some will go. More will come. Some will stay a long time, like Joseph's and Ralph 'n' Rich's. We count on them, like institutions.

A new retail establishment, not a restaurant, is the Bridgeport Community Pharmacy on Fairfield. It's owned by Dawn, a 45-year-old pharmacist who always dreamed of owning her own pharmacy. I'm now patronizing it. So long, CVS in Fairfield.

Downtowns revive block by block. To really understand a downtown, you have to walk each and every block. Watch what's happening. Consider the possibilities. Mourn for the past. Dream for the future. Plan for the possible.

Let's now look at what's been said here with respect to Two Boots and downtown in general:

— A "ghost town?" Well, compared to a more glorious past, that's an understandable perception or guess but it's also incorrect. According to the Downtown Special Services District, downtown has about 7,500 workers during the day and about 2,500 residents at night in about a half-dozen major developments. With the Security Building opening this spring, the Forstone development on the south side of McLevy Green about to begin, Kuchma's new block about to begin, and the announcement of 250 new units going in this year next door at Steelpointe, we're looking at having 3,000 to 3,500 residents of the combined downtown and Steelpointe areas on both sides of the Pequonnock within just a year or so. That's a small town. (In rural New England, that's a big town.)

— What can downtown Bridgeport offer? Density. Cool architecture. Civic spaces. History. HCC. Major offices. Proximity to Seaside Park and UB as well as SHU, Fairfield, SCSU and other colleges and universities. A transportation center. A sports and entertainment venue. Lodging in TWO hotels (don't forget the Hampton Inn coming into Steelpointe, as well as the Holiday Inn). The center of a fine local bus system that works. The library. Local, state, and federal offices. Courts. Arts. Increasingly: small creative businesses and hints of the digital and creative economy. Funk. Spirit. Verve. Jazz. Real streets, sidewalks, and streetscapes. No cookie-cutter stuff to speak of. The promise of a waterfront that might work again. (Okay, that's a stretch. Or is it? The study to plan for it has already begun.)

— Parking? Crowded on the 200 and 300 block of Fairfield, yes. Sometimes crowded on other blocks. Antiquated meters that aren't internet-app enabled like in New Haven and Norwalk. But we're working on the meters and we actually have plenty of street parking though I can quibble about the design of it on this block or that–like the way it works against 24/7 residents in the vicinity of the buildings were residents live. But that's because the policies didn't anticipate the residents and no one has yet advocated for adjustments. Generally, parking is a concern but not the critical problem people here seem to think it is. I live with it day and night. It's not my Number One or even my Number Two concern. My relatives come to visit or dine downtown and never complain either. They are here often.

— Panhandling? A deterrent? There's precious little of it. Those of us who live here know you can count the regular panhandlers on the fingers of one hand. If they frighten you, check your stereotypes and irrational fears but don't blame the reality.

— The DSSD not "special" and not "services?" I see its service offerings daily. I see its meetings and its staff. "Special?" Yes, it offers services and programming unavailable elsewhere in the city and paid for by local property owners in the DSSD "teardrop" territory. That's what special. As in, not ordinary.

— Slices of pizza at Amici Miei, among other places. So, there. (Harumph. You judge your downtown by availability of pizza slices; I relish in Starbucks and Dunkin and Fruta Juice and Sweet Treats. To each their own food vice, and each vice can be served right now downtown. Yes, we lost McDonald's and we've gained lots of local brands and other chains. Overall, we're winning. As noted, on the same block, Dunkin invested. The Chinese food place and Subway and Moe's are there, too, in the same vicinity, several of those with nearly round-the-clock hours.)

— People don't FEEL safe, you wrote. But the reality is they CAN feel safe. The reality is the downtown is indeed safe and has constant public safety patrols. FEELING safe is a marketing perception that can be changed. But the ability to reasonably be safe is today's reality, day and night and weekends. Try it!

— The cost to park is a deal-breaker? Give me a break. $2 for two hours at a meter. Less than the price of a cup of coffee. Even if you're on the next block, you're not far away. Feeling unsafe walking one block? Read the previous paragraph. And rejoice that you're being healthy by walking a few hundred steps both ways to and from your car.

— A quick thought: Downtown is supposedly "a ghost town" but we're also "shoehorning in these restaurants." Those two criticisms are diametrically opposed. It can't be both. Clearly, this is a perception problem … downtown is a ghost town because too much is going on? The confusion is in your perception.

— "Other than the occasional event?" Let's talk about "occasional." Arena and ballpark events are "frequent." Live music is "frequent" in several venues. Talks at the library and elsewhere are frequent. Summertime, the Farmers Market and live music on McLevy Green are both weekly. What's "occasional" about this? I know what's "occasional!" It's the description of how frequently you choose to entertain yourself in the center of your own city because your fears block you, which is the perception (but not the reality) we have to address. Make better choices and enjoy both the frequency and variety of activities available right now.

— "Foreboding atmosphere?" Yes, on some blocks. But on many blocks, activity. Look around. Not as much as in other cities, and that's a problem. But the seeds are there and they're sprouting. It's a block-by-block thing. The only way to appreciate it is to park your car and walk each block. Which means feeling safe. You ARE safe but you don't feel safe. Hence, foreboding in general. In reality? In the downtown core? Not super active on every block, but foreboding? Some of that is perception. Some of it is lack of investment activity. It's a very strong word. What're the elements contributing to your dread?

— A shuttle system? Like trolleys? It's an idea whose time has not yet come. Or consider this: city buses. They crisscross downtown. You talked of a shuttle system to get to the train and bus station. Why replace the bus with … a bus??

— More lighting? A good idea, in spots. Not my biggest concern, and I'm walking day and night. More security? On top of the cops I see all the time? I have better security than you do.

— Jeff Kohut and I are just going to have to keep disagreeing. He's just in a different place than I am. He wants downtown fed by organically grown local industrial jobs, not outsiders visiting or moving in from the suburbs, specifically Fairfield. Industry is hard, ask Paul Timpanelli or read local history (I know Jeff is aware of this, so I am being a bit snide here). He criticizes a planning concept that brings mixed uses and mixed incomes to urban environments with new investment, and then he extols Fairfield for having essentially the same results. He wants Bridgeport to be more like Fairfield, except he doesn't want Bridgeport to be more like Fairfield. He wants to do development a hard way, when another way is already working. What Jeff is correct about, in my opinion, is we need to agree on the right paradigm for our city. It was recommendation #1 by the Economic Development & Small Business Committee of the Mayoral Transition Task Force, I think.

— Retail doesn't help downtown, or people? Because buying everything from big boxes and online is better? When did retail become a pariah? Especially in a downtown intrinsically built for street-level retail commerce?

Losing Two Boots hurts. We move on. Go have coffee, a salad, and one of the excellent made-in-the-store oatmeal cookies at Fruta Juice or a slice of quiche at Leisha's Bakeria. Music at Tiago's and elsewhere. It's a loss. It's hardly fatal. Meanwhile, come visit downtown more often and look around. It's coming along and it's better than you fear it is.