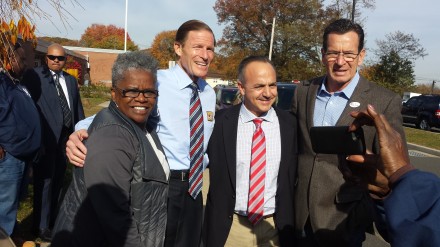 U.S. Senator Dick Blumenthal emerged from his bar mitzvah conducting a news conference. And he hasn't missed an opportunity to promote himself or something since, or so it seems. To Dick's credit, he's adopted a sense of humor along the way, as he noted the other day, "I will go anywhere there's a crowd of more than three people."

That mantra certainly helped him survive his Vietnam War service gaffe in his 2010 Senate race against Republican Linda McMahon. Dick's built up a lot of goodwill visiting remote meetings.
The Hartford Courant's Greg Hladky has more on this:
There is a decades-old joke among Connecticut politicians and journalists that the most dangerous place to be at any public event is standing between Richard Blumenthal and a TV camera.

During his five terms as Connecticut attorney general, Blumenthal's appetite for publicity became the stuff of legend. His staff produced almost daily flurries of press releases, announcements of news conferences, and statements about new lawsuits or investigations by his teams of attorneys.

He became famous for showing up at any function that could possibly put his name in print or on the air. To be fair, he also loved attending all sorts of incredibly non-newsworthy events, from town committee meetings to local bake sales.
Full story here.