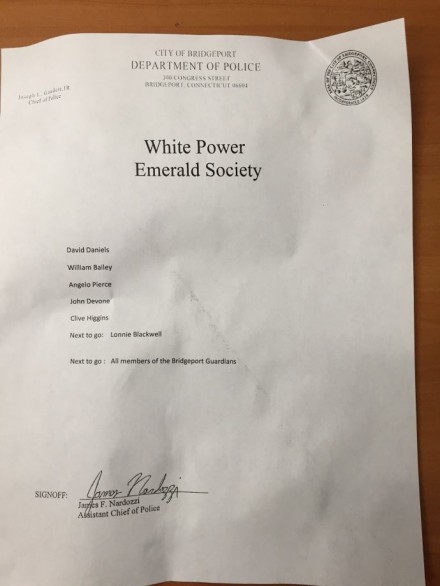 Sometimes when mayoral administrations are on the verge of a switch, key decisions are held back as a matter of convenience to duck controversial news on the way out the door. That's the case involving a contentious issue in the police department. Police Chief Joe Gaudett on Tuesday was poised to place a high-profile police official on administrative leave in connection with the motive and authenticity behind a racially charged letter distributed throughout the department in February that also involved now-retired police officer Clive Higgins, the only one of three city police officers acquitted in federal court with the stomping of a suspect in Beardsley Park several years ago. State law enforcement officials also simultaneously continue a criminal investigation involving the role of city police officers manufacturing the letter typed anonymously on police letterhead to embarrass police leadership.

A few hours before Tuesday's scheduled 5 p.m.disciplinary action, the meeting with the chief was cancelled. As one source said, "This may be a case where the next administration has to clean up the dirty dishes." Mayor Bill Finch, just days from leaving office, apparently wants to save news of the investigation for incoming Mayor Joe Ganim. Not exactly a profile in courage for Finch whose political hero is John F. Kennedy.
The local police internal investigation and the criminal probe by state police centers on fabrication of the letter that investigators believe was a ruse to set the appearance of a racial divide within the department. In one letter threatening language was directed at Higgins, an African American veteran police officer. Another letter distributed a few months ago, headlined "White Power," falsified the name of Assistant Chief James Nardozzi who stated following disclosure of the letter "I am disgusted that someone would make such a hateful statement and falsify my signature to the document. I did not write or sign this letter nor have I made statements that even remotely reflect the sentiments of this letter."
Higgins was also mentioned in another letter as well as Lieutenant Lonnie Blackwell, president of the Bridgeport Guardians minority police organization. As the investigation gained some traction, Higgins resigned from the police department.
A few weeks ago the union representing city police officers demanded Gaudett, approaching the end of his five-year appointment by outgoing Mayor Finch, release results of an internal investigation into the root cause of the letters' distribution. Will Finch reappoint Gaudett in his last days in office?
"It has been brought to the attention of the Bridgeport Police Union, Local 1159, that the investigation in the above-captioned matter has been finalized and delivered on or about September 21, 2015," wrote AFL-CIO Council 4 staff representative Kelly Rommel in a joint news release issued with Sergeant Chuck Paris, president of Local 1159. "We again repeat the plea that our officers need closure in this matter. The members of Local 1159 work tirelessly to serve and protect the citizens of Bridgeport. Nevertheless, there has been a cloud over the heads of the entire department since this disparaging letter was delivered."
Paris added, "It's time to shed some light here, so we can all move on. We hope and expect the Finch administration will disclose the results of the investigation, and not leave it for the next administration to clean up. The sooner we begin any healing that's necessary, the better."