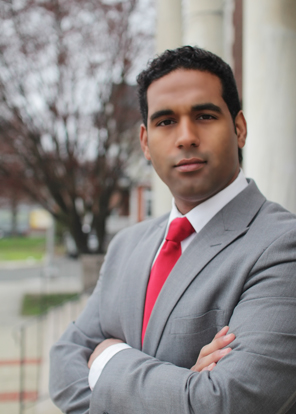 City fire commissioner Dennis Bradley has joined the growing field of candidates seeking the Democratic nomination for Connecticut's 128th State House seat occupied by freshman legislator Christina Ayala. Bradley officially announced his candidacy on the Bridgeport Now public access show co-hosted by Jennifer Buchanan.

"For the past two years, Christina Ayala has been making news for all the wrong reasons while she grows further out of touch with the hard-working families in Bridgeport," said Bradley. "I'm running for State Representative to bring respect back to the 128th District and to focus on resolving the serious problems facing Bridgeport, and the State of Connecticut.
"It's time we make Bridgeport's families our top priority by improving the quality life of our neighbors," continues Bradley. "I will prioritize improving public safety and fostering economic development in the 128th, while seeking an appointment to the Judiciary Committee to reform our criminal justice system."

Bradley, a practicing attorney, joins the city's anti-blight chief Chris Rosario and Teresa Davidson in the field. Rosario is expected to receive the party endorsement, but an August primary is likely. Bradley and Rosario both won seats on the Democratic Town Committee in March. Bradley is a newcomer to elected politics. Just like Rosario, he has a likeable personality with the ability to make friends fast. Ayala says if she's not endorsed she will wage a primary.
Bradley graduated as a Cadet from Norwich University with a degree in Political Science and earned a J.D. from the University of Massachusetts School of Law.
The 128th State House District covers the East Side and cuts across the city to the Hollow neighborhood, also touching portions of the North End and West Side.
More about Bradley here.
128th District map here.