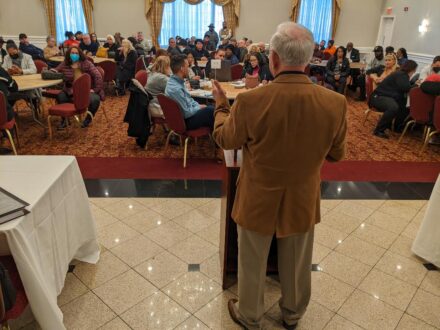 It looks like the epicenter of city politics for decades is headed for an apartment transformation.
Testo's Restaurant, the North End destination of powerbrokers, from local Democrats to governors and U.S. senators, has been sold and will close Dec. 31, according to chef Ralph Giacobbe, Democratic Town Chair Mario Testa's nephew who oversees the kitchen staff and banquet facilities.
In the last year Testa, now in his mid 70s, has become circumspect about his future having recovered from quintuple bypass surgery. He has a place in the Italy of his youth and he's of the mind to share his success with his family.
The chairman also owns Testo's Pizzeria (Three Corners), a popular family restaurant just over the line from Brooklawn in Fairfield.
The chairman is not quite done with politics, with a mayoral election in 2023.
More from Brian Lockhart, CT Post:
Giacobbe declined to discuss the buyer, but prominent local developer John Guedes said it is an individual who plans to erect apartments there. Guedes said his company, Primrose Construction, was hired to design and build that project.

"I'm part of the development team," Guedes said.

In late 2021 Giacobbe filed preliminary paperwork with the city for an apartment or condominium complex with underground parking at Testo's. He and his land use attorney, Raymond Rizio, in early January dismissed rumors of a pending sale. They instead argued the paperwork had to be submitted to get around height restrictions on new developments that took effect Jan. 1 as part of revised city-wide zoning regulations.
Full story here.