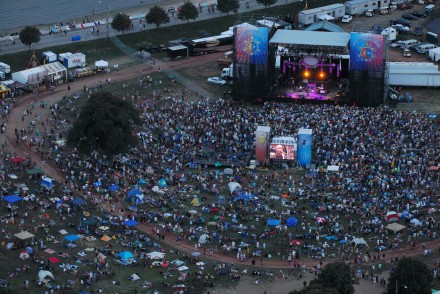 Late last year Ken Hays, founder of the Gathering of the Vibes, announced he needed a "time out" from the annual hippie fest that spent most of its 20-year history on the grounds of Seaside Park. It could make it more difficult for the city to collect $750,000 owed covering the last three years' worth of police detail including outside overtime. Not exactly music to the ears of city bean counters.

City budget director Nestor Nkwo, among the officials trying to close a budget gap, says the Vibes owes $250,000 per year for 2013-2015. Nestor says the city is holding $300,000 in an escrow account to cover damages, but "In order to use those funds for other purposes Gathering of the Vibes would have to authorize the release of those funds to be applied for an alternate use."
Hays had transformed Seaside Park, one of P.T. Barnum's gifts to the city, into a waterfront tent city with visitors arriving from throughout the northeast in tribute to the music of the psychedelic rock band the Grateful Dead. In the spirit of the party group, spirits and reefer near the reef placed hospital emergency rooms on alert. Policing the premises was a costly undertaking requiring security details that included city police outside overtime Hays was obligated to pay, according to the city.
The Police Department security had mushroomed in recent years in response to incidents at the event. The outside overtime office in the Police Department historically handles the billing.
It begs the question, why was Hays allowed to move forward with the event without satisfying the bill?
Hays announced on November 27, 2015, about three weeks after the general election for mayor, that "Producing the Vibes as an independent promoter is a challenging endeavor and, honestly, after 20 amazing years, we need a time out."
OIB has reached out to Hays for a response.
In December of 2012 then-Mayor Bill Finch announced a five-year agreement with Hays to host the annual festival in Bridgeport through 2017. Hays interfaced with several city departments for the event including police and parks.
The Vibes had its share of supporters as well as detractors who claimed it's a drain on city services with little economic bang for the buck. It also was controversial for the freebies city officials received to attend the weekend-long festivities.
Under the latest agreement with the city the Vibes was obligated to pay the growing overtime costs that swelled in recent years.
In 2012 CT reporter Brian Lockhart chronicled how Finch's administration looked the other way when it came to overtime costs. Documentation showed that taxpayers were paying for most of the security even though "Finch's office claimed Hays paid for the police costs."