With the state's financial picture getting worse by the second, and the city looking at a tax increase, we just need to get away from it all. So, for all you jumpers, just in case you want to parachute to the blog party May 15 at Captain's Cove I thought I'd show you some landing areas courtesy of Morgan Kaolian. Just remember to open your chute.
Maybe Republican State Sen. Rob Russo will fly in while GOP chair Marc Delmonico rows in. I understand Cougar Rodgerson (oh Coug, where have you been?) will be pulling a rickshaw to The Cove for Bill Finch and Democratic Town Chair Mario Testa. Now that would an interesting conversation with those two all cuddly in the seat. Maybe they'll compare their approval ratings.
So, what would a public opinion poll reveal about Finch's first five months in office? I don't know, maybe I'm going soft, but I'm starting to feel sorry for him. It's a tough job. "Leonard, get a hold of yourself!" Do you think Sonya will bring her sheriff to the blog party?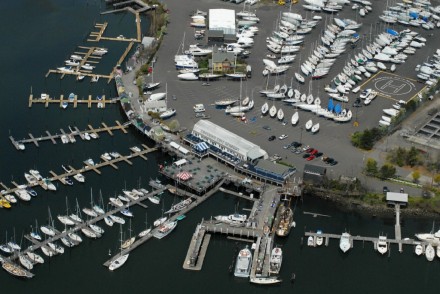 News release from Bill Finch
New Affordable Housing Units Provide Quality and Affordability in Bridgeport

Mayor Bill Finch (D-Bridgeport) attended a ribbon-cutting ceremony today at 1737 Stratford Avenue in Bridgeport. The project involved the substantial rehabilitation of a two-family Victorian style home in the City of Bridgeport's East End by the Community Cooperative Development Foundation (CCDF), a 501(c)3 non-profit agency committed to the development of affordable housing. Two Section 8 families will occupy the completed units at this location.

"My administration is committed to making Bridgeport a City in which people can afford to live," said Mayor Finch. "By working with federal and state agencies such as HUD and DECD, the City has delivered on a promise that had been delayed for a decade. With this important project we are continuing to add additional high quality, affordable housing to the available portfolio."

Most significantly, the rehabilitation of this two-unit home represents the first project completion associated with Presidential Village and is an outstanding example of additional high quality development slated to occur under the auspices of this initiative with the support of the City of Bridgeport, the Bridgeport Housing Authority, the State of Connecticut Department of Economic and Community Development and the Connecticut Housing Finance Authority.

In the 1980's, the developer executed an agreement with the City to develop low-income rental housing throughout the City and entered into a contract with the State of Connecticut for financial assistance to assist in the construction of 22 affordable, scattered-site rental housing units in Bridgeport which are collectively known as Presidential Village. Presidential Village was subsequently constructed and completed.

In 1999, the City acquired one of the properties from the developer to facilitate the expansion of the Garfield-Marin School which decreased the overall unit count from 22 to 19 units. 1737 Stratford Avenue represents four units replacing the three that were eliminated with the expansion school.

The redevelopment of 1737 Stratford Avenue represents just the beginning of the type of high-quality development CCDF brings to the City in terms of jobs, quality of construction and affordable rent for residents of this City. Local minority sub-contractors were employed by CCDF to complete the project.
Bush Is Missionless
Press release from Jim Himes for Congress:
JIM HIMES CALLS ATTENTION TO MISSION NOT ACCOMPLISHED AT HOME

On Fifth Anniversary of Bush's "Mission Accomplished" speech, Democratic Candidate for Congress Highlights Growing Cost of Iraq War

Norwalk, CT — Today, businessman and non-profit executive Jim Himes held a "Mission Not Accomplished" press event at the Norwalk City Hall. May 1 marks the fifth anniversary of President Bush's "Mission Accomplished" aircraft carrier landing and speech, in which the President claimed that the United States had achieved its objective in Iraq and that major combat operations had ended.

Five years later, with no mission accomplished and no end to our occupation of Iraq in sight, the cost of the war has prevented us from achieving important objectives at home. "Five years later, it is clear that George Bush and Chris Shays have no plan to get us out of Iraq," said Himes. "This war has cost our district alone more than $3.1 billion, or $4,700 of per household. The runaway spending on Iraq has meant that critical missions here at home are not accomplished. Imagine what we could accomplish if we invested this money where it is most needed. We should be investing in improving our schools, moving us towards energy independence, and creating a health care system that works for everyone."

"For five years now, Chris Shays has supported this war at enormous cost in lives and hundreds of billions of dollars," said Maura Keaney, Himes' campaign manager. "Now Chris Shays supports a candidate for President who has said it would be fine with him if we stayed in Iraq for 100 years. These are his choices, but they are not the priorities of families here in our district who are feeling the pain of our failing economy."

Photos of event:
www.flickr.com/photos/himesforcongress/2457739278
www.flickr.com/photos/himesforcongress/2457739424

Background:
The estimated cost of the war to fourth district taxpayers alone has been $3.1 Billion. The National Priorities Project estimates that with that amount, the fourth distrct could have been provided with:
· 1,024,089 People with Health Care for One Year OR
· 3,826,989 Homes with Renewable Electricity for One Year OR
· 370,678 Scholarships for University Students for One Year OR
· 119 New Elementary Schools OR
· 14,845 Affordable Housing Units OR
· 1,190,047 Children with Health Care for One Year OR
· 430,262 Head Start Places for Children for One Year OR
. 42,790 Elementary School Teachers for One Year OR
· 37,668 Port Container Inspectors for One year
[Source: National Priorities Project: www.nationalpriorities.org/costofwar_home]