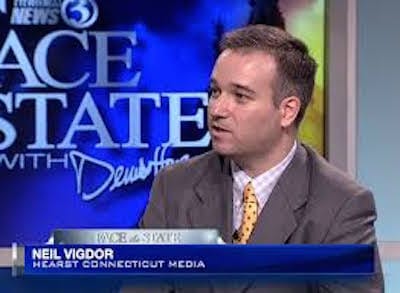 Hearst Connecticut Media, owner of the Connecticut Post and a number of other southern Connecticut newspapers, has successfully poached key Hartford Courant staffers in recent months. The Courant has returned fire, hiring away Neil Vigdor, one of the top political reporters in the state, as media outlets ramp up political coverage of the 2018 gubernatorial cycle.

Vigdor was the scribe in the vehicle shadowing Mayor Joe Ganim's January announcement for governor when a city police detective was stopped in Southington by a state trooper for doing 87.
More on this from Duby McDowell's The Laurel:
The crosscurrent of talent between the Hartford Courant and the expanding Hearst CT newspaper company continues. In a memo to Hearst CT staff, Executive Editor Bobbie Roessner (a Courant alumna herself) announced that Hearst CT Political reporter Neil Vigdor is packing his bags for Broad Street. Neil started out as a summer intern at the Stamford Advocate in 1997 (a guy named Malloy was mayor at the time) and eventually went on to cover statewide politics for Hearst CT. The Vigdor acquisition is another sign that the two competing newspaper operations are getting ready for the 2018 election which is expected to be extraordinarily active. In a memo to Courant staffers, Publisher Andrew Julien writes that Neil will hit the ground at the Courant this week.