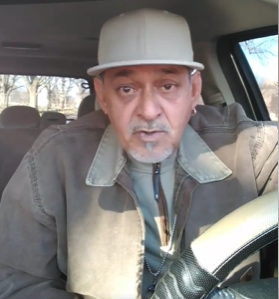 If rowdy protests are your thing in front of someone's home, take it at least 300 feet away. So says City Councilman Jorge Cruz.
He has submitted a resolution calling upon the City Attorney's Office to draft language of an ordinance "Prohibiting Targeted Residential Picketing within 300 Feet of the Property Line of Certain Residential Dwellings."
It's not without precedent, he asserts, citing a U.S. Supreme Court decision see here that placed restrictions on targeted picketing in a Wisconsin town.
The genesis of Cruz's call came in November following A clash between police and protesters outside the city council president's house was averted Friday afternoon when a half-dozen officers ignored the taunts and walked away.
Placard-carrying activists, one with a bullhorn, in support of Black Lives Matter demanded defunding of police at a protest outside City Council President Aidee Nieves' Park Street home. Signs were placed on the fence fronting her home. Nieves was not apparently home.
Cruz says something must be done to stem potential destruction, citing Trump-incited followers who attacked the U.S. Capitol with calls to hang Vice President Mike Pence.
"I'm not condemning the beliefs of protesters," says Cruz. "I've protested as well. But don't take to a person's house where things can get rowdy and out of hand."
The resolution is expected to be referred to the Ordinance Committee at Tuesday's council meeting.
This meeting will be conducted by teleconference at 7 p.m.
The public may listen by calling the following conference line and then entering the conference code:
Dial-In Number: (929) 436-2866
Meeting ID: 381 083 245