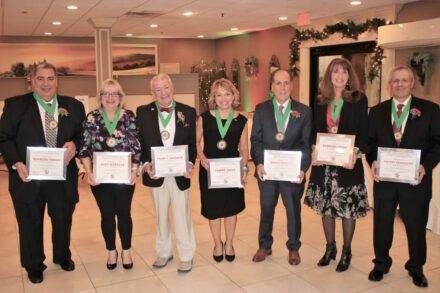 The Council of Italian American Societies of Greater Bridgeport presented eight area Italian Americans with the John A. Arcudi, Esq Award for their professional success and service to others.
The following eight Italian Americans were honored at Trumbull's Tashua Knolls banquet facility before 180 guests:
— Mario Bartoli of Trumbull
— Frank T. Gennarini of Milford
— Judy Marella of Shelton
— Michael Parente of Bridgeport
— Vincent Procaccini of Fairfield
— Barbara Rogo of Bridgeport
— Tammy Orfino-Silva of Monroe
— Maurizio Viselli of Easton< An officer of the Council of IAS, Christopher Caruso, who chaired the event, pointed out that the award highlighted the spirit and professionalism of area Italian Americans. The dinner featured authentic Italian dishes as well as Tony Costa, a strolling singer performing classic Italian tunes. Caruso said: "The award is not about how successful the recipients are, but how they embody the great spirit of Italian Americans who have added so much to their communities. Italian Americans have contributed in many ways, including business, the arts, medicine, law and culture. We encourage all Italian Americans to proudly make their families and communities aware of the importance of their Italian culture." Procaccini, a financial advisor and former language teacher, credited his Italian-American family upbringing for instilling in him strong values. "My grandfather and parents taught us the importance of hard work and love of family. It formed me." Rogo, a retired mathematics teacher and one of the organizers of Bridgeport's first Italian Film Festival, scheduled for 2023, has been an activist to preserve the Italian American presence in her community. "Our Italian heritage is integral for the Greater Bridgeport community. It's who we are," she said. Gennarini, a Barnum festival ringmaster and Vice President of Real Estate for D'Addario Industries, said: "I'm proud of my heritage because of the legacy of Italian Americans in this community. This is a great honor." The John A. Arcudi, Esq award is named in honor of a prominent Bridgeport attorney who founded the Italian-American Societies in 1979, serving as its first president. A former intelligence officer during WWII, Arcudi demonstrated the legacy of public service, integrity, and ethnic pride that lives on today in Connecticut's Italian community. The IAS has organized the Columbus Day Parade for the last consecutive 114 years, the longest running parade in the Northeast.