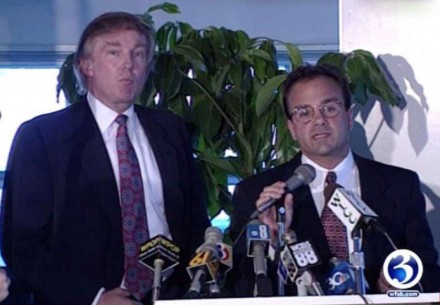 Three speakers are scheduled to address the City Council Monday night on the subject of Bridgeport's prospects as a sanctuary city designation that would shelter undocumented immigrants from federal policies. A number of city councilors support it while Mayor Joe Ganim has not signed on, preferring to leverage his relationship with Donald Trump that he built in the 1990s than make the president's enemies list. Trump, who keeps score, says he will withhold funds from cities that stand in his way of his immigration reform proposals.

Hundreds of U.S. cities including New Haven in Connecticut have declared sanctuary city status. Legal observers question whether Trump's executive order can pass constitutional muster. The issue, as well as many other Trump initiatives, will be decided by federal courts.
At stake could be tens of millions of federal dollars for infrastructure improvements and other grants wired from Washington. Ganim would prefer to treat the issue with benign neglect in exchange for Trump's benevolent dictatorship. Others argue Trump won't do anything for the city. But Trump places a premium on loyalty. If he recognizes someone is sticking his neck out for him politically he may respond in kind.
Ganim experienced this with a gigantic personality during JG1. In November 1991 Ganim defeated Republican Mary Moran who had plunged the city into federal bankruptcy court that June. The state, led by then Governor Lowell Weicker and then-Attorney General Dick Blumenthal opposed the bankruptcy filing arguing that as a child of the state it hurt Connecticut's credit worthiness. A federal judge sided with the state. Moran appealed it so when Ganim took office the city's bankruptcy application was still pending.
On Ganim's first day in office Weicker told the 32-year-old mayor withdraw the bankruptcy filing and many state goodies will come your way. Weicker was true to his word flooding the city tens of millions of dollars it would not otherwise have received. It helped Ganim hold the line on taxes for 10 straight years.
Ganim and Trump had built a relationship in the 1990s when Trump eyed Bridgeport for development. Trump invited Ganim to his nuptials with Marla Maples, his second wife. When Trump made a Bridgeport campaign appearance at the Klein Memorial Auditorium last April, Ganim stopped in for a quick meet and greet.
In the late 1990s, a development team that included Jack McGregor, Mary-Jane Foster and Mickey Herbert, now the president of the Bridgeport Regional Business Council, became owners of the new Bridgeport Bluefish baseball team. They eyed the old Jenkins Valve property, owned by Trump, as the site of the Ballpark at Harbor Yard. Trump purchased the five-acre parcel as a prospective site for a gaming facility. When gaming expansion was rejected by the Connecticut State Senate Trump lost interest in paying the roughly $300,000 tax bill.
In the spring of 1997 (full disclosure, I was then a consultant to Trump) Trump fired off a letter to Ganim complaining about the injustice of taxes for an industrial eyesore, adding he'd like to explore a way to turn the building over to the city for viable use.
Ganim and Trump cut a deal during a telephone call. Trump signed the deed to the property over to the city in exchange for waiving taxes owed. Ganim cemented his site for the city-owned ballpark and Trump walked away from the building.
Ganim is balancing the economic benefits of schmoozing a president with the political pressure of supporting a sanctuary city.
So Ganim will only embrace Bridgeport as a sanctuary city if he sees no value in courting the president's potential goodwill.
The public speaking portion of the council session begins at 6:30 PM, followed by the council meeting at 7. Full council agenda here.