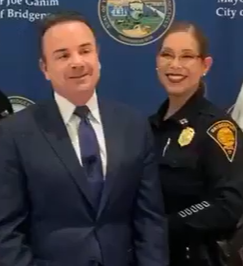 The City Council's Contracts Committee on Tuesday will take up the appointment letter of Captain Rebeca Garcia who was promoted to assistant chief by Mayor Joe Ganim and top cop AJ Perez. The meeting will take place 6 p.m. in Wheeler Room B of City Hall, 45 Lyon Terrace.
The Contracts Committee is chaired by Jeanette Herron and Ernie Newton.
Police chief and assistant chief, the two top police positions, are the only ranks not affiliated with a collective bargaining union. Garcia's starting pay, according to the letter, will be $142,425.
Ganim and Perez announced Garcia's appointment on November 25. The position has been vacant since January 2016 when James Nardozzi was removed in a department shakeup after Ganim's return to the mayoralty. Nardozzi sued. The city and Nardozzi have come to terms on a settlement that requires City Council approval.