Citing an untimely court filing the city, with a concurrence from City Councilman Marcus Brown, has filed a motion with Superior Court Judge Barry Stevens to dismiss the cross complaint by State Rep. Jack Hennessy who is down two votes following the results of the August 9 Democratic primary in Connecticut's 127 Assembly District.
Deputy City Attorney John Bohannon quotes state statute that requires a challenge of a primary to be filed within 14 days of the vote. Hennessy filed his complaint August 31, more than two weeks after the primary.
As a result Bohannon contends the court has no jurisdiction to hear the cross complaint. Hennessy's lawyer disagrees.
From Bohannon's motion: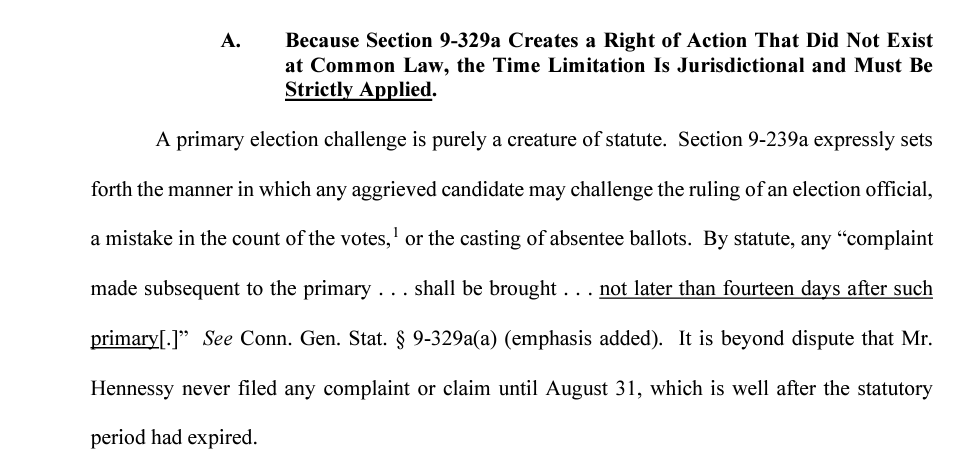 Judge Stevens is expected to take up the party motions on Tuesday.
The Brown-Hennessy battle is a study in election and legal whiplash. On primary night tabulations showed Brown with a five-vote lead triggering an automatic recount. The recount the following week placed Hennessy up by a single vote but with a major caveat: nine absentee ballots counted on primary night had been stored away in a bag of another district. They were not tabulated in the recount.
Elections officials threw up their hands but certified a one-vote win for Hennessy.
Brown raced into court urging a manual recount of all the ballots. Judge Stevens agreed. The ballots were discovered and tabulated in the hand count giving Brown a two-vote edge and the certified winner.
Hennessy cried foul and filed a cross complaint to Brown's court action but after the two-week statutory window to do so.
In his motion, Bohannon argues that an aggrieved candidate may challenge the ruling of an election official be it the candidate with the most votes or least. For example, he argues, if a candidate wins by 1,000 votes but believes there was a mistake in the count that would add more votes to the win column that candidate could be aggrieved to file a complaint.
Once Hennessy had a one-vote lead he was content to allow the results to stand without filing a complaint within the statutory guidelines. When he was declared the loser, following the manual recount, he only then filed a cross complaint to Brown's original court filing.
Conclusion from Bohannon's motion: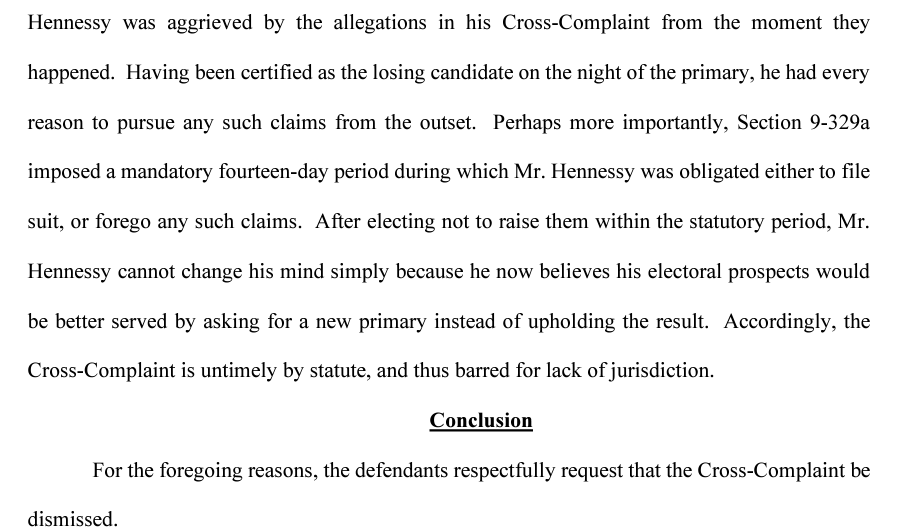 Read Bohannon's motion here.
Read Brown's motion to do the same here.
Read Hennessy's objection to dismiss here.