Bridgeport government ended the June 30, 2021 fiscal year with a $9.1 million budget surplus, more than double the previous year, according to Finance Director Ken Flatto and the accounting representatives hired to conduct the annual audit, Nikeleta McTigue and Santo Carta of CLA.
Grab a container of joe or a beverage with adequate fluid ounces to review audit here.
To the ordinary earthling this financial stuff can be an exercise in mind-numbing madness. Only a few, such as OIB reader John Marshall Lee, take pleasure in reviewing the small print.
The City Council's Budget & Appropriations Committee is scheduled to hear a Valentine's Day happy hearts review of the audit Monday, 6 p.m. via Zoom/Teleconference. The public may listen by calling the following conference line and then entering the conference code:
Dial-in Number#: (929) 436-2866
Meeting ID#: 117 676 489
The city's fund balance, the so-called rainy-day fund, increased by roughly $9 million from the previous fiscal year to $36.7 million. The fund balance is used by New York rating agencies as a measure of fiscal health.
The accounting firm submitted its report to the city Feb. 8.
Mayor Joe Ganim the first week of April will present his budget plan to the City Council for the 2022-23 fiscal year that begins July 1.
An influx of disaster-relief federal and state dollars has allowed the city to parcel out funds for community initiatives not seen in generations while buoying general fund flexibility. The Police Department, be it beefing low staffing levels and community service requests, will likely be a flashpoint of budget deliberations for the next fiscal year.
So look for a give-and-take between Ganim, city bean counters and the council about respective priority spending, especially in light of the rosier budget picture.
With election year 2023 on the horizon, the city's fiscal picture will allow Ganim to at the very least hold the line on taxes the next two budget cycles.
Excerpt from Flatto: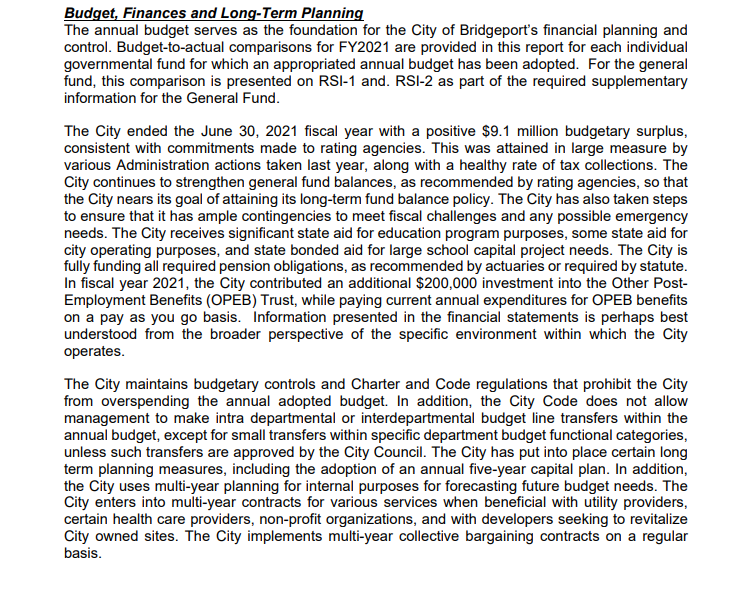 Financial highlights from audit report: