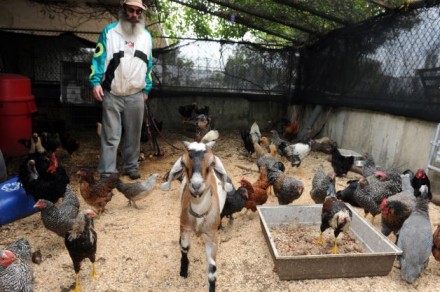 Chris Toole, who brought his very own wild kingdom to the city's animal control center, says he's been told his collection of farm friends must go. From his Facebook page:
It looks like the Bridgeport Farm will soon be no longer. We have just been given 30 days to remove all of our animals (except 6 chickens) by the Bridgeport Police Department. Anyone know of a farm (or large block of land) that would be interested in having our family and animals as partners? Looks like it's going to be a tough couple of months!
… to say the least it appears that after an intensive campaign the Bridgeport Police (who took over active day to day management of Bpt Animal Control after Jimmy Gonzalez left) have successfully persuaded Mayor Finch that our activities must be downsized to essentially nothing.
Mayor Bill Finch had authorized Toole to set up an urban farm months ago.
Last October the State Department of Agriculture cited Toole's experimental urban farm at the city's animal shelter for a series of violations including unlicensed livestock and poultry dealer, illegal importation of animals and control of rabies in public setting. The report states Toole "is operating in Connecticut as both an unlicensed Livestock and Poultry Dealer/Broker and is transporting animals and poultry interstate and intrastate without proper documentation or testing requirements, incomplete and unofficial identification."
The state, with much suspicion, had given Toole a temporary reprieve while continuing inspections. The Police Department was also not happy with Toole's operation.