Three weeks from three key Democratic Town Committee district primaries, ground zero for political influence. DTC members conduct party business, endorsement candidates for public office and select officers.
This is not slate takes all. Democratic electors in each district may choose up to nine candidates among 18, top and bottom combined. The nine candidates with the most votes win. Bridgeport's DTC has 90 members spread over 10 districts.
Let's start with the 131st District covering the South End, Downtown and portion of the West End. The top row slate includes former City Councilwoman Mary Bruce, retired police officer and 2015 mayoral candidate David Daniels, Gemeem Davis, leader of the citizen action group Bridgeport Generation Now and former school board member Kate Rivera who is listed after her legal name Mary Kathleen Rivera.
What's up with that? Call it a slip of the Hancock filling out the paperwork. Candidates may choose informal names for ballot appearance. Still, this is a formidable line of campaigners challenged by a slate featuring former City Councilwoman Denese Taylor-Moye, Mark Bush and Glenn Pettway.
DTC Slates 131st District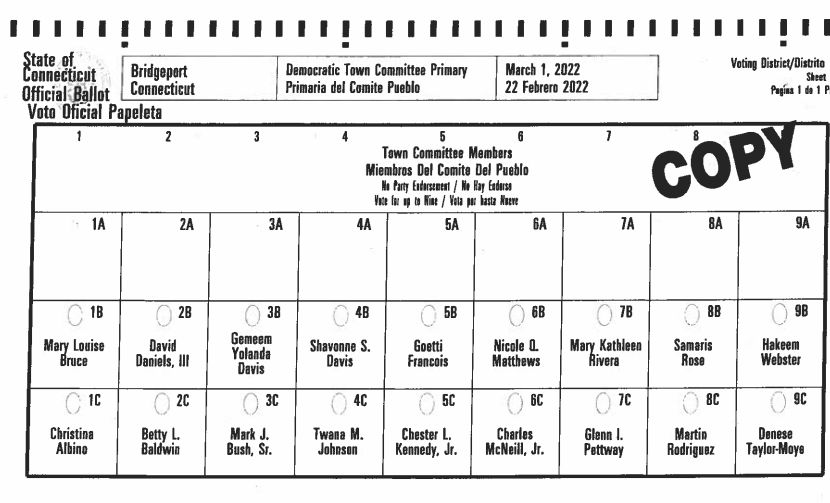 DTC slates 135th District
Call this one a battle between State Rep. Charlie Stallworth who has 2023 mayoral ambitions and City Councilwoman Mary McBride-Lee. Actually call it the reveille of the reverends. Stallworth and McBride-Lee are both city ministers. Stallworth now has amassed more than 10 years in the State House, a tasty treat for a government pension. Sounds like he's opting out of another legislative term, setting his sights on a second mayoral run. He was in the mayoral field in 2019 before dropping out, money- and support-challenged. This district covers Whiskey Hill and portion of the North End.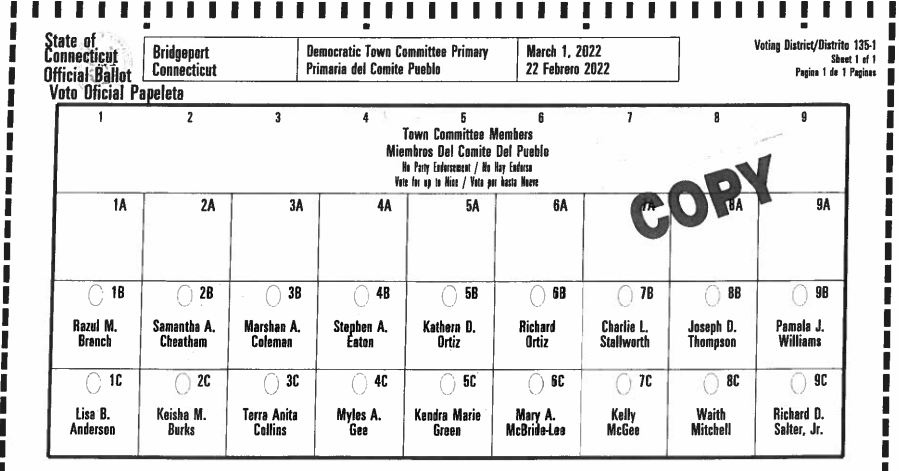 DTC slates 137th District
Here we go again. Another East Side battle royal between City Council President Aidee Nieves and City Clerk Lydia Martinez. Nieves and council partner Maria Valle are joined by last September's primary opponents Rosa Franco and Elsie Mercado who've parted ways with Martinez. School board member Christine Baptiste-Perez is running on Martinez's slate.
This outcome might have more votes via absentee ballots than walk-in votes.
In fact, that eventuality could occur in all three districts, given low turnouts, weather and large senior citizen voter base.