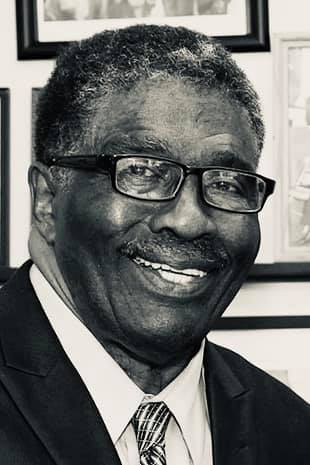 Update: A viewing will take place at The Klein Memorial Auditorium, 910 Fairfield Avenue in Bridgeport, on Wednesday Aug. 28, from 4 to 8 p.m. A memorial service and tribute will be Thursday Aug. 29 from 1:30 to 3:30 p.m. at Jettie S. Tisdale Elementary School, 250 Hollister Avenue, Bridgeport.
Charlie Tisdale, a preeminent political organizer who is the only African American to be nominated by voters to serve as a major party candidate for Bridgeport mayor, has died. He was 86.
In 1983, he won a wild Democratic primary for mayor before losing a close general election vote to Republican incumbent Lenny Paoletta.
Most recently, well into his 80s, he had served as executive director of ABCD, the city's anti-poverty agency. Last year community leaders came together to raise funds for an annual college scholarship in his name.
"The Omega Psi Phi Fraternity mourns the loss of their brother and great leader who served the City of Bridgeport for many years," writes Ralph Ford, Democratic district leader of the East End, who helped to organize the event. "His life work epitomized the four cardinal principles of Manhood, Scholarship, Perseverance and Uplift."
Tisdale is a significant figure in Bridgeport, both in and out of city politics. His organizational skills paved the way for other blacks to reach elective office including Margaret Morton, the first black woman elected to the Connecticut State Senate in 1980; Ernie Newton who became president of the City Council in 1981; Ed Gomes, elected to the City Council and eventually the State Senate.
"I've known him all my life and as a kid I received my first job at ABCD," says Newton. "Charlie had a way of bringing people together. Even if he didn't agree with you he never burnt that bridge. He brought a lot of young people together, a whole bunch of young people. That was his uniqueness. We don't have a lot of that today. He taught us politics is never personal. He said that there aren't any permanent friends, no permanent enemies, just common interests."
Statement from Mayor Joe Ganim: "Charlie was a bigger than life community and political leader who made numerous contributions for decades to help people and create opportunities for them. Most recently as the Executive Director of ABCD, he assisted thousands with child care, energy assistance, and housing services.
"Our sympathies and condolences extend to his family along with our appreciation from all who have been touched by Charlie's generosity and friendship over his long lifetime of dedication and service to others. He will be sorely missed."
State Senator Marilyn Moore says Tisdale was a teacher, friend and surrogate father.
"He was generous of his time and talent and served the entire community unselfishly. He was a mentor and friend to countless people who had a desire to seek public office. In my eyes he was a giant of a man in stature and political knowledge. I will never forget his impact in my life. I will miss him during this current journey as he counseled me throughout my life; as a child and adult."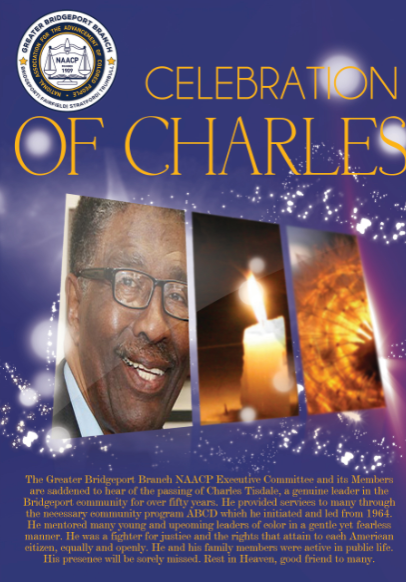 He was married to city educator Jettie Simmons Tisdale who passed away in 2004.
Charlie Tisdale was a Harding High School quarterback. As a candidate for mayor he was a one-man turnout machine who inspired voters to the polls, both for and against him. As a social service leader, he led for decades Action for Bridgeport Community Development, an anti-poverty agency. He also worked in the Jimmy Carter White House.
In 1983, Tisdale became the first black in city history to be nominated by the people of a major political party for mayor. It was a crazy primary and general election season. In 1981, Republican Lenny Paoletta won the mayoralty in razor-close fashion over incumbent Democrat John Mandanici. Two years later a small army of Democrats sought the mayoralty including Mandanici. At the party convention in July no candidate could muster the 46 votes necessary to secure the endorsement. Tom Bucci, who had worked in the City Attorney's Office during the Mandanici years, came closest.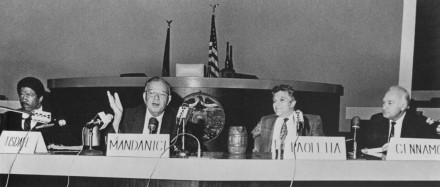 Mandanici had served the city for three terms before Paoletta squeaked a win, amidst an FBI probe of Mandanici's administration and party chaos. (Mandanici was not charged.) Think of a cross between John Fabrizi and Archie Bunker and you have Mandanici. Pure emotion, in your face, sausage finger in reporter's chest: "Look, you little bastard," he'd say, "here's how you're going to write this story."
For his part, Lenny–handsome, bold and determined–could turn a pretty good line. Mandanici really didn't worry about appearances, so Lenny promised: "One of the images we will improve upon is how the mayor conducts himself in public."
Tisdale emerged as the single greatest political organizer in the city stitching together disaffected Dems, young political organizers and swelling registration ranks by inspiring the black community. His followers were dubbed the Tizzies. A cagey, calculating, smart policy wonk, he had challenged Mandanici in a 1981 primary. Mandanici won, but couldn't make peace with Tisdale. Fifty percent of the black community, believe it or not, voted for the Republican Paoletta.
Two years later, the Democratic convention was deadlocked. No one received the endorsement for mayor. Bucci had the most support, Mandanici had a bloc of votes, as well as Tisdale. Mandanici's City Attorney John McNamara was also a mayoral candidate. In a crowded field of white candidates, Tisdale won the primary, becoming the first black to run on a major-party ticket in the city.
After the primary Arthur DelMonte, who had secured a ballot spot on the Taxpayer Party line, ceded his ballot line to friend Mandanici.
Some Democratic regulars, and white voters suspicious of Tisdale, split off with Mandanici. Electorally, the city was a much different place, white voters were the majority and the gap between registered Democrats and Republicans not nearly the 10 to 1 of the current registration. Seemingly it was the best chance, considering the times, for Tisdale to win the general election, three white candidates splitting that constituency. Tisdale fundamentally did not campaign north of Capitol Avenue in heavily white neighborhoods. He worked turnouts in heavily black and Latino precincts. He ran a close, spirited race.
Paoletta won the election with approximately 16,000 votes to Tisdale's 15,000. Mandanici received 10,000 votes. Ralph Cennamo, as a petitioning candidate, picked up a couple thousand votes. The citywide turnout eclipsed 70 percent. To compare, general elections for mayor in modern times are hard pressed to hit 30 percent.
In 1985, Bucci defeated Paoletta for mayor after a hard-fought primary win over Tisdale. Bucci and Tisdale made peace. As part of the deal, Tisdale was appointed director of economic development.
Shortly after Bucci won a second term in 1987 they had a falling-out. Tisdale ran for mayor one final time in 1989 finishing a distant fourth in a Democratic primary. But he remained active in the city reemerging once again as executive director of ABCD.