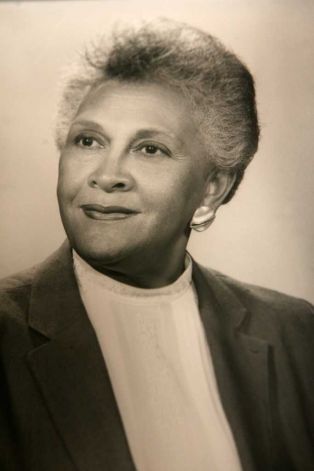 Margaret Morton, the first African American woman elected to the Connecticut State Senate, was a transformational figure in city politics. She's someone to celebrate every day, the City Hall Annex renamed in her honor by then Mayor Bill Finch following her passing in March 2012. She has a political legacy in the city like no other.
It was 1980, and genial State Senator Salvatore DePiano was appointed tax attorney by Democratic Mayor John Mandanici, a sweet-and-sour political hurricane. Margaret, a state representative and funeral home director, believed she had a deal with Mandy to replace Sal when he received the tax attorney appointment. Somewhere along the way the deal went out the window, and Margaret saw it as a double dip, two jobs at once. Margaret was among the most decent in city politics. She was honest, strong and her word was good. The fight was on.
Don't mess with a funeral home director. It quickens the political mortality rate.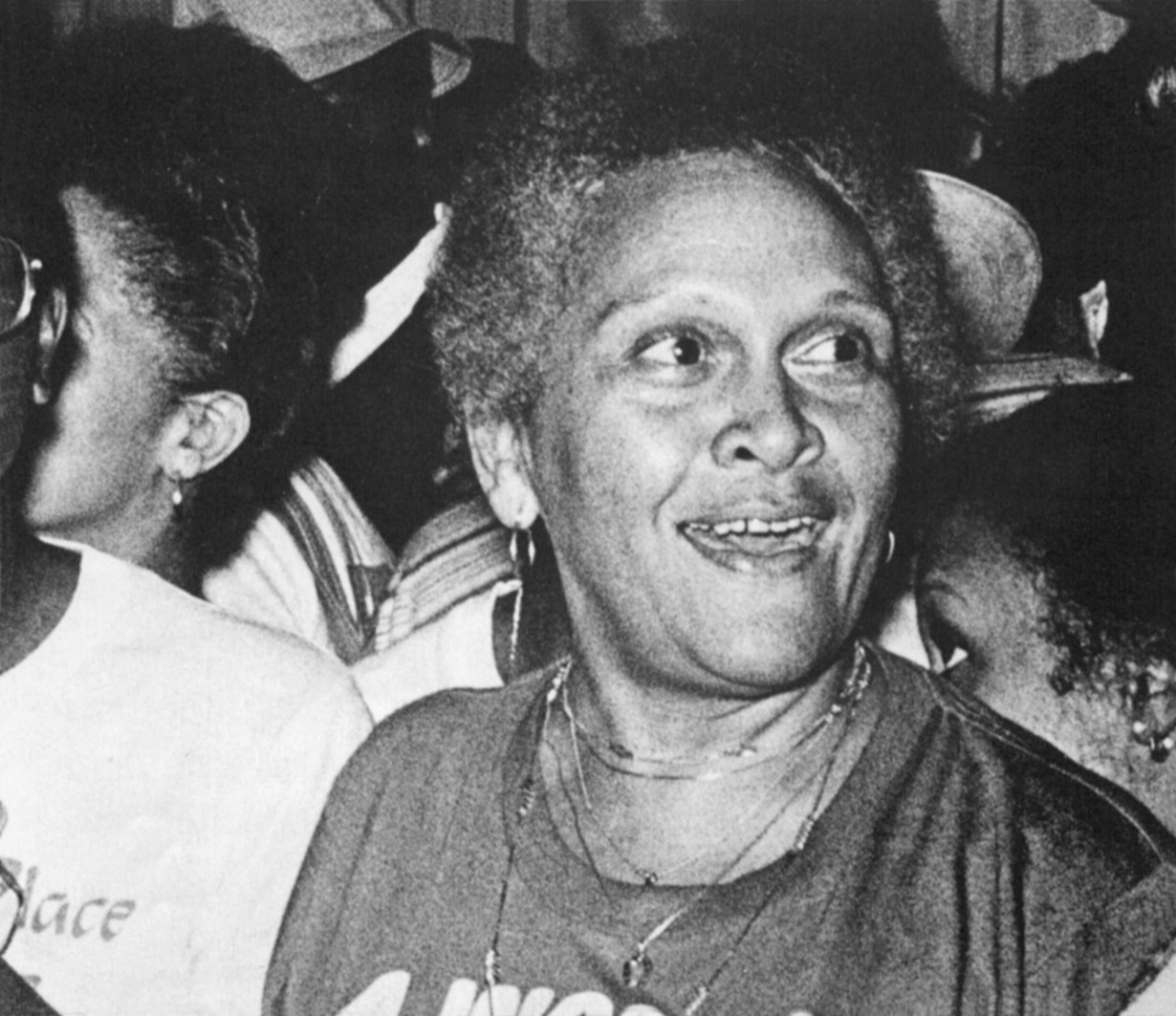 In 1985, I interviewed Margaret for inclusion in my book Only In Bridgeport.
"I felt I was a loyal Democrat. They had reneged on their promise that there would be no double-dipping. I wanted to make peace but they wanted to make war."
And it was a war that changed the face of city politics. Margaret, in her mid-fifties when she took on this primary battle, stitched together a coalition-–black, white and brown–-that said screw the party establishment. Margaret defeated DePiano by a handful of votes in the Democratic primary on her way to a general election victory. The next year Mandanici lost to Republican Lenny Paoletta who ran even with Mandy in the African American-rich East End. Can you imagine that happening today?
Margaret's primary win did more than elevate her as a black woman in the Connecticut State Senate. She opened the door for several black candidates including Charlie Tisdale, a gifted political organizer who became the first black in the city's history to win a major party mayoral nomination in 1983. In 1981, a young music teacher from East Side Middle School, Ernie Newton, became City Council President.
When Margaret left the State Senate representing the 23rd District, she was replaced by Alvin Penn who was replaced by Newton, then Ed Gomes, Andres Ayala, Gomes again and now Dennis Bradley.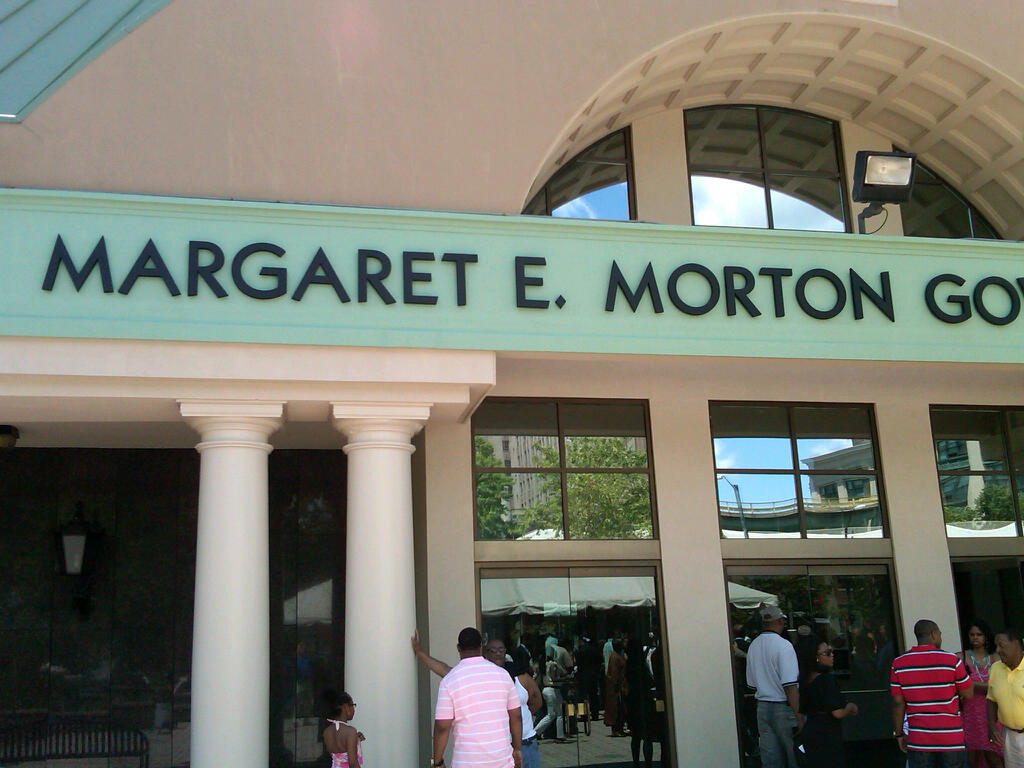 Morton Government Center on Broad Street
In 2012 Finch dedicated the City Hall Annex the Margaret Morton Government Center.
In 2018, State Senator Marilyn Moore, who represents the adjacent 22nd State Senate District, was among state leaders to nominate Margaret to the Connecticut Women's Hall Of Fame.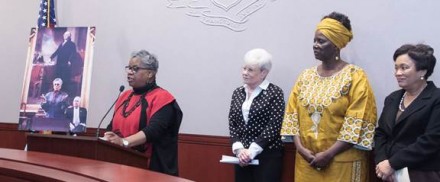 State Senator Marilyn Moore, at lectern, nominates Margaret Morton
"Margaret Morton laid the groundwork for me to stand where I am today–the third black woman ever to be elected to the Connecticut Senate," Sen. Moore said. "Margaret knew that being the only black woman in the legislature meant she had an added responsibility to serve as a mentor to the men and women of color who would come after her. She broke down barriers and became a leader at the State Capitol. She is a true role model to women across the state."
In 2019, city officials unveiled a portrait of Margaret Morton in celebration of Black History Month.
From her 2012 obituary:
MORTON Margaret E. Morton, age 87 entered eternal rest Saturday, March 10, 2012 in Bridgeport Hospital. She was born in Pocahontas, VA in 1924 to Aaron & Leona (Hurt) Woods. She was raised in Bluefield, W.Va. She attended the public schools in Bluefield and graduated from Genoa HS in 1941 Summa Cum Laude.

Immediately after Margaret's graduation she married James F. Morton, to this union four children were born. Margaret was a homemaker until a bout with tuberculosis hospitalized her for several years. After Margaret's hospitalization & James' completion of embalming school; Margaret & James, with the aid of several family friends, proceeded upon the task of building what is now known as Morton's Mortuary, Inc. Margaret was very actively involved in the construction process; she laid all of the tile flooring for the first floor of the building, including much of the tile on the second floor. As the business struggled to survive early on, it became necessary for her husband, James to work two full-time jobs. This situation created a need for Margaret to become aggressively involved in the funeral business.

Margaret obtained her funeral director's license and began to run the funeral home when James was working one of his many jobs. In 1972, at the age of 48 Margaret pursued a run for the state house of representatives and became the first African American woman to sit in Connecticut General Assembly serving fou terms as a State Representative. During her tenure in the House she chaired the committee on Human Rights and Opportunities and rose to the rank of Assistant House Majority Leader.

In 1980 she took on the Bridgeport "Democratic Party" power structure, Margaret won the primary by 8 votes and after a lengthy court battle, Margaret went on to win the general election to become the first African American Woman elected to the Connecticut State Senate. Her motto was "A Woman's Place is in the House and The Senate Too."

Margaret served six terms in the Senate and ascended to the position of Deputy President Pro Tempore, which is the second highest official in the State Assembly. She sponsored numerous bills which have been signed into law and was responsible for two African American judges being appointed during her tenure.

Margaret has earned many awards too numerous to mention for her outstanding commitment, service and achievement. At the end of the 1992 session Margaret decided to hang it up and did not seek re-election, after which she worked as a consultant in the Governor's Bridgeport Office until the end of 1994.

Margaret was a member of the First Baptist Church of Stratford, a former member of Walters Memorial A.M.E. Zion Church where she served as a Sunday School teacher and stewardess. Margaret was one of the founding members of 100 Black Women of Bridgeport, A member of CHUMS Inc, a former Executive Board Member of the Hall Neighborhood House, former member and President of the Connecticut Order of Women Legislators, former member and Executive Board Member of the NAACP, former Vice Chairperson of the Connecticut Black and Hispanic Caucus.