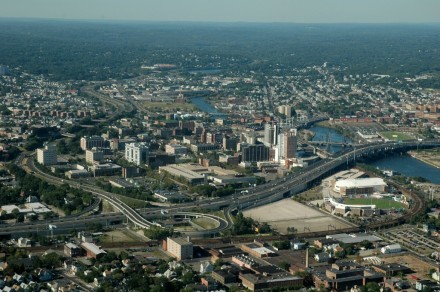 Okay, let's have some fun. Black Rock is apoplectic about absorbing the brunt of the revaluation blow that jacked taxes in the neighborhood to finance city services. For two hours the other night Mayor Joe Ganim listened patiently as homeowners, a majority from that cool Black Rock hamlet, justifiably vented. Most Black Rockers did not vote for Joe in the primary or general election in 2015. Can you imagine if Bill Finch were still mayor? He'd have shouted back, "You Black Rock people have gotten away with tax murder for years!" Some disengaged Rockers want to secede back to Fairfield that once owned a piece of the Park City. Not gonna happen. But why deny dreamers, right?

This is not new. Twenty-five years ago then-State Rep. Lee Samowitz, frustrated by suburban ignorance toward the city, proposed dividing Bridgeport into the suburbs. Before there was a Bridgeport there was a Stratfield. City proper as we know it today was controlled by Stratford to the east and Fairfield to the west. Bridgeport was incorporated as a town in 1821 and a city in 1836. Damned Stratford left all the bridges to Bridgeport.
Just think of the possibilities if Bridgeport were carved up into suburban towns so reliant on the city's regional services. I'm open to suggestions about the configuration.
Okay, Fairfield gets Black Rock. But how far east do you go? How about all the way to Park Avenue? That way Fairfield absorbs P.T. Barnum Apartments (OMG, public housing!) the entire West End, Captain's Cove Seaport, the Aquaculture School and West End sewage treatment plant. But Fairfield would also get the regional garbage to energy plant in the West End that generates millions per year in taxes to the city. So that's not such a bad deal. Big win for Fairfield. Except they get all the beered-up Sacred Heart University kids living and creating havoc in the North End and the resultant drain on public safety. We would need to gerrymander the carve-up to make sure Fairfield gets the party students.
What about Trumbull, which sends Bridgeport all its poop? Since the West End sewage treatment plant is now in Fairfield proper, Trumbull can negotiate sludge fees with Fairfield. Trumbull absorbs its Bridgeport piece with a straight shot down Main Street taking in the North End all the way to UB and Seaside Park, and east to the Pequonnock River.
It will now be called the Trumbull Bluefish.
Trumbull gets all of Downtown, ballpark, arena, Housatonic Community College, all the courthouses too. Trumbull also snags City Hall. Instant revenue. By this configuration, Trumbull also inherits developer Sal DiNardo so he then can negotiate his tax deals with First Selectman Tim Herbst.
Everything east of the Pequonnock River goes to Stratford which means they get Beardsley Park and zoo, Pleasure Beach, the airport, the East End sewage treatment plant and Bridgeport Hospital. Stratford also absorbs former State Senator Ernie Newton and school board member Maria Pereira. Look out, Stratford!
What about the Bridgeport Board of Education? Hey, here's a solution … abolish it. No one wants it. Let the towns take it over. No wait, here's a better idea, let the state take it over. What, they already tried that!
And here's the best part of this land swap, Democratic Town Chair Mario Testa goes to Monroe! Isn't he there anyway?