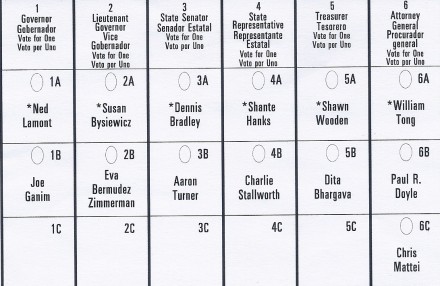 UPDATE: Bradley and Hanks qualified for grants on Thursday. The State Elections Enforcement Commission is in overdrive trying to keep pace with candidate grant requests under the state's Citizens Election Program of publicly funded races. With August 14 primaries on the horizon a number of candidates are awaiting grant application approval for campaign spend-down in the final weeks, including State Senate Democrats Dennis Bradley and Aaron Turner as well as State House candidates Shante Hanks and Charlie Stallworth who'll square off in primaries.

State candidates must reach a small donor fundraising threshold to achieve the public grant. Bridgeport is a party-dominant district with more primary voters to reach so the respective qualifying candidates receive extra loot. For State Senate the primary grant is $84,450.00, for State House it's $28,150.00
The primary grant for governor is $1,354,250.00, for Lieutenant Governor, Secretary of the State, State Comptroller, State Treasurer, Attorney General its $406,275.00
See grant amount guidelines here.
Democratic endorsed for governor Ned Lamont is bypassing the voluntary public financing program for a self-funding effort. Mayor Joe Ganim, his primary opponent, is raising money outside the program because he's prohibited from participation as a result of his 2003 public corruption conviction.
Connecticut's 23rd Senate District is an open seat currently occupied by Ed Gomes who is retiring at the end of this term. Bradley, a school board member, is the endorsed candidate challenged by Turner, former legislative aide to Gomes. Bradley lost a primary to Gomes two years ago as the endorsed candidate. The district covers about two thirds of Bridgeport and a portion of western Stratford. Connecticut's 126th State House seat is occupied by Stallworth, but he lost the endorsement to Hanks so was required to petition onto the ballot. The district covers a portion of the North End and cuts across the city to take in a piece of the Upper East Side.
The Line A Democratic primary ballot in Bridgeport's portion of Connecticut's 23rd Senate District looks like this: Governor Ned Lamont, Lieutenant Governor Susan Bysiewicz, State Senator Dennis Bradley, State Representative Shante Hanks, followed by the remaining constitutional offices with primaries.
Line B, Governor Joe Ganim, Lieutenant Governor Eva Bermudez Zimmerman, State Senator Aaron Turner, State Representative Charlie Stallworth, followed by the remaining constitutional offices with primaries.
Complete list of qualified candidates:
The first candidate listed is party endorsed.
Democrats
Governor
Ned Lamont
Joe Ganim
Lieutenant Governor
Susan Bysiewicz
Eva Bermudez Zimmerman
State Senator 23rd District
Dennis Bradley
Aaron Turner
State Rep. 126th District
Shante Hanks
Charlie Stallworth
Treasurer
Shawn Wooden
Dita Bhargava
Attorney General
William Tong
Paul Doyle
Chris Mattei
Republicans
Governor
Mark Boughton
Timothy Herbst
Steve Obsitnik
Bob Stefanowski
David Stemerman
Lieutenant Governor
Joe Markley
Jayme Stevenson
Erin Stewart
U.S. Senator
Matthew Cory
Dominic Rapini
State Senator 23rd District
John Rodriguez
Casimir "Caz" Mizera
State Rep 128th District
Luis Colon
Ethan Book
Treasurer
Thad Gray
Art Linares
Comptroller
Kurt Miller
Mark Greenberg
Attorney General
Sue Hatfield
John Shaban