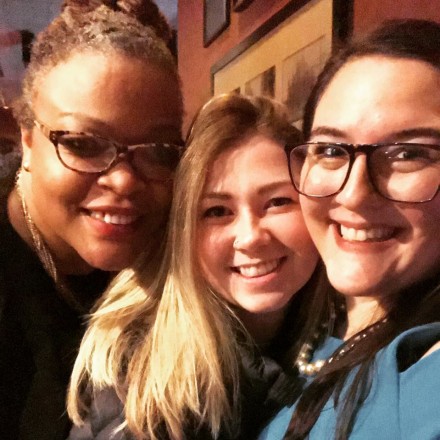 Building a Bridgeport bench. That's a battle cry of Constance Vickers, president of the Greater Bridgeport Young Democrats, to galvanize a new generation of city activists and leaders. The work of Vickers and her young allies enjoys some early results on the City Council. On Saturday the Connecticut Young Democrats recognized Vickers the Female Young Democrat of the Year at its annual Robert F. Kennedy Awards event. The new young blood in city politics will be active in March town committee primaries, this year's gubernatorial/legislative cycle and next year's mayoral races. A lot of work on the horizon.

"I am extremely humbled and honored to be named the Female Young Democrat of the year for Connecticut," says Vickers. "While I do lead the Bridgeport chapter, this award is for the entire group and the hard work that we put in this last year to earn four municipal seats. This award is for Maria Zambrano Viggiano, Jessica Martinez, Marcus Brown, Kyle Langan, Fabio Mazo, Antonio Felipe, Lauren Gray, Rowan Kane, Gage Frank, Sarah Lewis, Phylicia Brown, Josh Dellaquila, Karla Yanez, Emily Brown, Keyairra Wright and everyone else who joined us to persist, even when we were told that it wasn't our time, to wait our turn. I am so incredibly proud to be part of this amazing organization and for the guidance of State Reps Steve Stafstrom and Chris Rosario who consistently go above and beyond to mentor and empower the next generation of leaders. We all need to do more to build the bench here in Bridgeport and across the state, to ensure that we have quality leaders that reflect the diversity and values of their communities. I am excited for what the future holds and I can't wait to get back to work to elect Young Democrats across the state in 2018."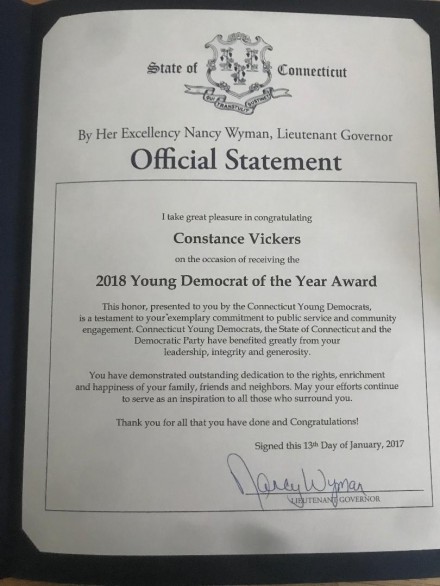 It's been decades since city Democratic politics has experienced young interest. Sometimes it takes just a few relentless warriors toiling a message of inclusion to build a viable small organization. The staying power of the group will be tested the next few years. But it's a welcome energy. Never tell a young person they cannot do something, right?
Saturday's event in Middletown attracted about 200 people including many candidates for statewide office. Brian Coughlin of Hartford also received a CT Young Democrat of the Year Award.