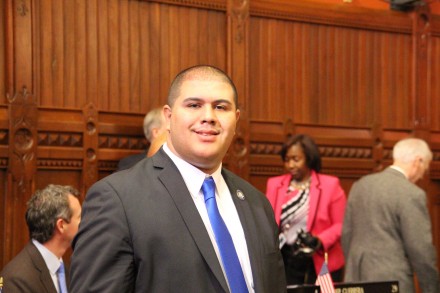 State Rep. Chris Rosario's days as director of Anti-Blight in the Neighborhood Revitalization department have ended. The Democratic leader for the 136th District and a strong supporter of former Mayor Bill Finch received a layoff notice on Tuesday. He has bumping rights to another city position that he plans to pursue. Deb Sims, another Finch supporter, also received a layoff notice. She was director of Neighborhood Revitalization Zones.

"I did receive a lay off notice today," Rosario wrote OIB in response to his employment status. "I am in NAGE and I do have bumping rights. I am going to explore that option and also see if other opportunities arise. I am grateful for my time as the Blight Director and my overall service with the City. If things don't work out I want to thank Mayors Fabrizi and Finch for the opportunity and wish the new administration nothing but the best of luck going forward."
After supporting Finch in his primary loss to Joe Ganim, Rosario followed Finch's lead in supporting Mary-Jane Foster in the general election. He's a well-liked rising star in city politics building a base of support in the heavily Latino East Side. He defeated incumbent Christina Ayala and Dennis Bradley, the new chair of the Board of Education, in a 2014 Democratic primary for State House.
Sims is a member of the Democratic Town Committee in the East End.
Sims' departure allows Ganim to appoint a political supporter to her position.