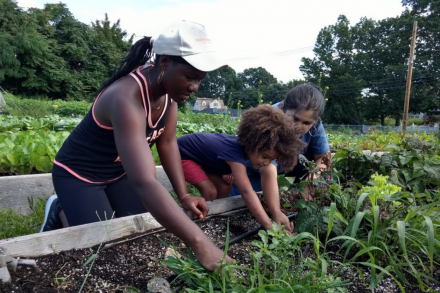 Ellie Angerame loves to sweat, be it digging deep into the dirt to watch things grow or chowing the #14 pho bowl at Pho Saigon. She's also a gifted writer. Hey Ellie, you want a job?
Oh that's right, she's got one as executive director of the Green Village Initiative, an innovative non-profit whose mission grows food, knowledge, leadership and community through urban gardening and farming. Executive director for nearly one year, Ellie has been with Green Village Initiative for five years including leadership roles within all four of the organization's core programs.
She's OIB's latest interview in a salute to Bridgeport's Bicentennial.
Q. What is your first memory of Bridgeport?
A. In 1999 at the impressionable age of seven, going on eight. Bridgeport to me at the time was an endless road for rollerblading with the kids from my class, full of seabreezes, pop and R&B blasting from car radios. On one of our first nights in Bridgeport, my mom and I walked out to the lighthouse together from Seaside at sunset, stopping to read the names carved into the rocks, and I imagined when I was a big kid, I'd do the same (I have yet to deface anything at Seaside, rest assured).
The DNA of Bridgeport is in its ties, relationships and community. Since moving back to Bridgeport as an adult I've worked as youth and farm manager and now executive director at Green Village Initiative. GVI's mission is to grow food, knowledge, leadership and community through urban farming and gardening to create a more just food system in Bridgeport. Whether it's smelling lemongrass grown by my gardener friend May Yang in her Ridge Avenue community garden plot, marveling at the new, neat rows of carrots students planted in Cesar Batalla's school garden, hearing our teens employed over the summer marvel at how they'd never seen themselves as "farmers" before, or enjoy the monarch butterflies migrating through Reservoir Community Farm with elder gardeners, my tie to Bridgeport is through my community and we connect through our time in nature together.
Gardening and growing food is truly a revolutionary act for our planet and people when a price can be put on every square foot of land and development is so frequently favored over greenspace. While our city faces a number of systemic injustices in access to food, educational funding and safe public safety, it's really clear to me and anyone who lives here that our community has the answers for how to solve our issues, it just takes people leveraging our power to get it done–together.
The energy of deep care and community investment is so clear from the number of organizing groups in Bridgeport I respect and admire: Make the Road, PT Partners, FaithActs, Bridgeport Generation Now, Bridgeport Mutual Aid and so many amazing neighbors I know who do great work to help people use their power for change without being affiliated with any group!
Q. What do you like best about Bridgeport?
A. I find it heartening that no matter how I grow, I am supported by the deep relationships of my past. From speaking at my first city council meeting to my former elementary-softball-coach-turned-city-councilwoman to having folks recognize me as "Farmer Ellie" when I'm at Seaside, I love that for a city so populated, Bridgeport feels a lot of times like a small town. It helps me to feel connected, but more importantly, it helps my mental health to feel like I always have family around me in our city, even during hard times like this past year during the pandemic, or the past several when we have needed to organize to protect our people through Black Lives Matter and Sanctuary City reforms.
Q. Where is your favorite spot in the city to visit and why?
A. Reservoir Community Farm will always have my heart as my favorite place–that soil is where I've grown into the farmer and person I want to be beside farm neighbors, friends, youth, and children who find solace and community in the shared work of growing food in our city for one another. That said, I always find my hands very busy when I'm there weeding or helping a gardener harvest! So if I truly want to relax, I will head to the ColorBlends House on Clinton for their slow firework display in the spring of crocuses, daffodils, or tulips, or to may other serene, quiet place in my neighborhood–the Mount Grove cemetery where the winding paths and shade absorb the sounds of traffic as you walk in peace past beautiful monuments and spot some wildlife.
Q. What's your favorite Bridgeport eatery and what do you like there?
A. This is such a difficult question to answer as a true foodie. Bridgeport is quietly one of the most amazing food scenes in CT. For walkability from my home–there is no beating Pho Saigon. Whether it's a chilly winter day or a boiling summer afternoon, the #14 pho bowl for $7 wafts the scent of fresh thai basil into your nose and the variety of hot condiments helps you dial into just how much you want to sweat.
I also love heading to whichever Bridgeport Farmers Market is going on each given summer day and checking out the offering of local food businesses and entrepreneurs for lunch! For my meat fix as a lapsed vegetarian, the chicharones and chicken heart at Terra Brasilis is unbeatable. Best negroni in the city with a side of pasta is hands-down A'Vucchella, but who can pass up a quick empanada at El Coquito? There's a delicious meal for every mood somewhere in our city!
Q. Where do you see the city going?
A. Bridgeport in ten years will be a destination site for art and thriving local urban farming scene. We have a huge community of artists, creators, small food businesses, farmers, and entrepreneurs who are super diverse in age, race, ethnicity, orientation, ability–our city, and especially the youth in our city, have creativity in spades. Everything we need to be a destination for folks to visit to appreciate amazing art, food from all over the world, and innovative urban food production is already here, we just need to make sure we highlight what we're best at while making sure the people who have set their roots here and made Bridgeport what it is don't go anywhere. Gentrification is a real threat along the corridor from NYC to Boston, and I would hate to see Bridgeport change too drastically to attract wealthier or whiter residents or development. We as residents and officials have to think really seriously about how to make sure we are thriving and uplifting the incredible work in our city–especially in terms of food and art who have each taken a hit during the pandemic to get where we are going!
Q. If you had a magic wand and could make a miracle happen for the city, what would it be?
A. We, the people of Bridgeport, are the magic wand. I always ask myself what we can do to work together to make those miracles happen.