You gotta hand it to Beardsley Bart, the eternal optimist of Connecticut's Beardsley Zoo. A cold snap coming, but he predicts it's just a few days followed by an immediate warming trend to close out winter.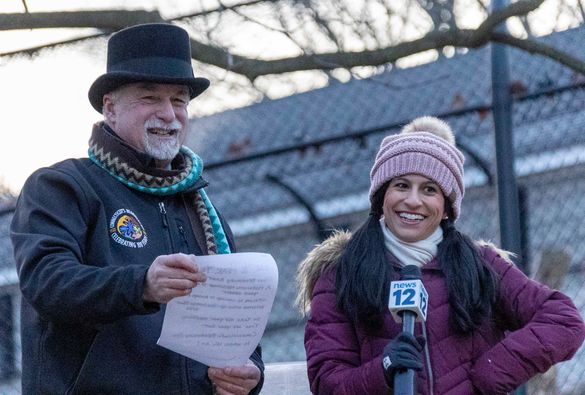 Zoo Director Gregg Dancho reads early spring proclamation with News 12's Lauren Fabrizi.
From Beardsley Bart:
Who needs Punxsutawney Phil when you have 'Beardsley Bart?' Beardsley Bart, Connecticut's own Prognosticating Prairie Dog shared his weather forecast with a small gathering of his friends early this morning. This year, he did not see his shadow, revealing that Connecticut will enjoy an early spring.

"Beardsley Bart is a very early riser and when he came out this morning, he confirmed that he did not see his shadow," explained Zoo Director Gregg Dancho. "But every year, Beardsley Bart says that spring is coming eventually, and he has always been 100 percent correct."

Dancho invites everyone to visit the Zoo throughout the cold weather, as that's when many of the animals are most active. Animals who enjoy cold temperatures include the Amur leopards, Amur tiger, North American river otters, and Mexican grey and red wolves.