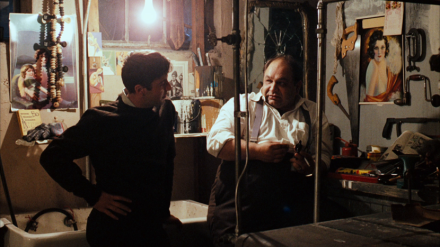 In a scene from The Godfather, Clemenza schools Michael Corleone, practicing to Swiss cheese a corrupt police captain, about family rivalries.
Michael: "How bad do you think it's gonna be?"

Clemenza: "Pretty goddamn bad. Probably all the other families will line up against us. That's all right. These things gotta happen every five years or so, ten years. Helps to get rid of the bad blood. Been ten years since the last one." Kinda sums up city politics about one week from a Democratic Town Committee war. It's been a long long time since the last one.

Hearing from the candidates? Phone calls? Door knocks? Fliers? What are they saying? One week from Tuesday about 120 candidates (yes, that many) across seven city districts will vie for control of political power in the Democratic Party. Roughly 30,000 registered Dems are eligible to vote in the Democratic Town Committee primaries. What's on the line? Mario Testa's chairmanship and perhaps Mayor Bill Finch's reelection fortunes next year.
Why is this happening? Some are unhappy about the direction of the city, others want to settle political scores, still others want to build on insurgent success following last September's mauling of all Democratic endorsed candidates for Board of Education and City Council.
Electors in their respective districts can vote for up to nine of any of the candidates on the two lines. The winners will join the 90-member Democratic Town Committee that will choose a chairman and endorse candidates for public office including the mayoral election next year. Forty-six votes are required for Testa's reelection and Finch's endorsement next year. Black Rock District Leader Danny Roach is the only announced opponent to Mario who's expected to receive two more years, unless something really kooky occurs on March 4. If that does happen, look for another one or two pols to jump into the mix for town chair even if it's to play a stick-up game to leverage something else.
How's it possible for Mario to survive as town chair with all this hostility? Mario doesn't have a great relationship with the mayor. He can simply say "Your problem is with Finch, not me." But isn't Mario supposed to protect the mayor from this stuff? Yes, if they had a strong relationship. They've never been buds. Tax increases, governmental gaffes and political chaos allows Mario to embrace a divide-and-conquer strategy. Plus, right now at least, the mayor is focused on one thing: will I have 46 votes for the endorsement next year? We'll figure out the rest.
That, of course, depends on the level of competition next year. Meanwhile, districts are swimming in absentee ballots for what is expected to be a miniscule turnout that won't get out of double digits citywide. Let us know what you're hearing.
The candidate line-up below:
130th District: Daniel Roach, JoAnn Manzo, Michael Meehan, Melissa Henton, Anne Larcheveque, Thomas Mulligan, Jr., Joy Cline, John McCarthy, Jr., Eric Amado, Jr.
Challenge slate: Hector Diaz, Edna Garcia, Lee Samowitz, Rob Sullivan, James Fox, Robert Foley, David King, Joel Gonzalez, Tyree Gousse.
132nd District: Michael Freddino, Mary Evette Brantley, Carol Cocco, Anthony Lancia, Sr., John Olson, Lisa Parziale, Elaine Pivirotto, Joan Thornton, Reginald Walker.
Challenge slate:: Robert Halstead, Michael Jacques, Howard Gardner, Patricia Swain, Arlene Walsh, Stephon Wynter, Jessica Materna, Pierre Page Jr, Angel Echevarria.
133rd District: Thomas McCarthy, Howard Austin, Sr., Joseph Hatrick, Sr., Joseph Moura, Peretz Robinson, Abel Chaparro, Jeanette Herron, Albertina Baptista, Vincent DiPalma.
Challenge slate: Jessica Allen, Josh Kristy, Louis Innacell, Gail Janensch, Mahlon Goma, Ann Martin, Earl King Jr., Eugene Gailliard.
135th District: Wilfred Murphy, Diane Richards, Warren Blunt, Audrey Barr, Richard Bonney, Steven Ferreira, Deborah DeIrish, Curtis Mae McNair, Richard Cruz.
Challenge slate: Stephen Nelson, Doris Roman Nelson, Waith Mitchell, Carmen Harron, Charlie Stallworth, Mary McBride Lee, Fred Gee Jr, Darrett Evans Moss, Craig Jones.
136th District: Carlos Silva, John Gomes, Adelaide Esteves, Gloria Carbone, Jose DePina, Derek Williams, Lawrence Moore Jr., Mark Bush, Angel DePara Jr.
Challenge slate: Christopher Rosario, Jose Casco, Fabio Mazo, Lawrence Osborne Jr., Wanda Geter Pataky, Cruz Cotto, Dennis Bradley, Richard DeJesus, Mark Trojanowski.
137th District: Gilberto Hernandez, Lydia Martinez, Banjed Labrador, Joe Rosario, Maria Rivera, Guillermo Marin, Aidee Nieves, Juan Hernandez, Maria Ines Valle.
Challenge slate: Clinton Iannotti, Anderson Ayala, Alberto (Tito) Ayala, Jacqueline Richardson, Rueben LeBron Jr.
138th District: Richard Paoletto Jr, Martha Santiago, Michael Marella Jr., Christopher Anastasi, Kevin Monks, Kelly Ann Perez, Madeline Lopez, Andrezej Narolewski, Barbara Powell.
Challenge slate: Scott Hughes, Ann Barney, Pat Fardy, Twana Johnson, Melanie Jackson, Pearlye Sams-Allen, James Morton III, Nadia Pearce, Noel Sepulveda.