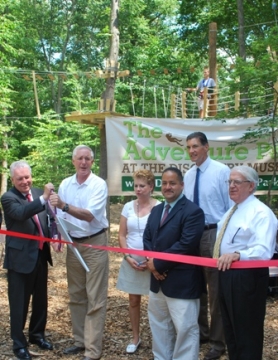 From Mayor Finch:
On Monday, Mayor Bill Finch joined State and local officials to celebrate the opening of "The Adventure Park at The Discovery Museum," the state's first aerial adventure park.


Situated on five acres of forestland in Veterans Memorial Park, behind the Discovery Museum & Planetarium at 4450 Park Avenue, the Adventure Park consists of about 110 platforms installed in the trees and connected by various configurations of cable, wood and rope to form bridges and challenges of different kinds including the ever-popular zip lines.

"The Adventure Park is a family-friendly destination that will bring thousands of guests from throughout the region to Bridgeport," said Mayor Finch. "The park will challenge you physically while bringing you closer to nature. I encourage everyone to check it out and bring the family."

The Adventure Park at The Discovery Museum will be similar to the other successful adventure parks that Outdoor Ventures Group (OVG), its builder and operator, have previously constructed, such as its Adventure Park in Sandy Spring, Maryland. OVG partner and Connecticut resident, Bahman Azarm, known informally as "Mr. Adventure Park" is the idea man who brought the concept to the United States after first seeing it in Europe.

Trails are suitable for ages seven to adult, making a visit to The Adventure Park a great family outing.