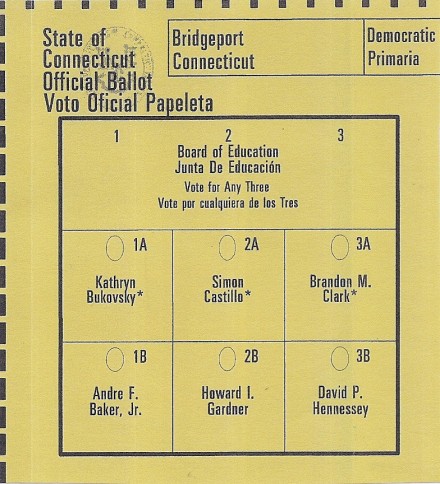 More than 1000 absentee ballot applications are circulating in the city for the September 10 Democratic primary for Board of Education. Nearly 600 absentee ballots have been mailed. More than 100 have been returned to the Town Clerk's Office. With almost two weeks left until the primary it's likely at least 10 percent of votes cast will come via absentee ballot. Both primary camps are getting in on the absentee ballot action. Nothing like six-pack abs to flex a little primary-day muscle.

The Town Clerk's Office is in overdrive trying to keep pace with the absentee ballot requests. The state's most populous city enjoys a large senior citizen voter base key to absentee ballot voting. In Connecticut's myopic voting world, electors can vote early only through excuse-required absentee ballot. Connecticut Secretary of the State Denise Merrill has led the charge to approve early voting as dozens of other states allow. State voters will decide in the 2014 election if they want early voting.
Meanwhile political operatives in the citywide school board race and four district primaries for City Council are working their traditional absentee ballot voters.
Endorsed Democrats Kathryn Bukovsky, Simon Castillo and Brandon Clark are being challenged by Andre Baker, Dave Hennessey and Howard Gardner.
In what is shaping up as a competitive school board contest, operatives for the respective slates are seeking an absentee ballot edge. The three top vote producers will move on to the November general election as prohibitive favorites.