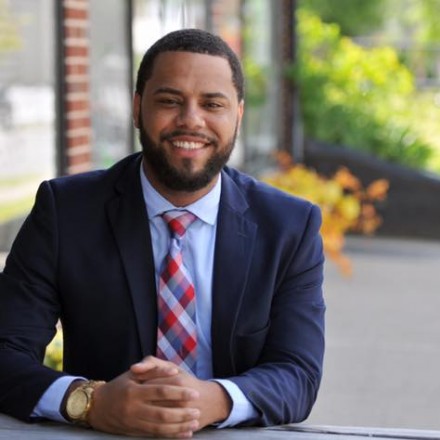 Two years ago young Marcus Brown joined a veteran group of West Side political operatives to claim all nine seats in a Democratic Town Committee primary in the 132nd District. This year, with a March 6th district primary on the horizon, he's going against the establishment grain.

"My vision and goals differed from those of the current slate and I felt it was time for new representation," says Brown. "This city needs change and part of that starts with new people ready and willing to serve."
Part of the change in progress for Brown was defeating a fellow DTC slate member, incumbent City Councilwoman Evette Brantley in a 2017 September primary. Brown joined Kyle Langan to take out the district-endorsed candidates for council, part of an emerging wave of young guns blasting into city politics.
The slate Brown is joining has many new faces to complement two veterans of city politics, former City Council President Lisa "Honey" Parziale and ex West Side council member Bob Halstead, both of whom are not enamored with the city's current political leadership.
These district battles are as retail as retail gets with a premium on door knocking and dragging out friends through personal appeal. Explaining, for one thing, the role of a town committee member to the average voter is a lesson in eyes-glazed-over. DTC members endorsed candidates for public office and select party officers. The outcome of district primaries will determine if Mario Testa receives another two-year term as party leader.
The slate Brown, Parziale and Halstead challenge features candidates with years of experience toiling in neighborhood politics such as Brantley, long-time District Leader Mike Freddino, former City Council members John Olson and Elaine Pivirotto and others.
These primary battles are not winner take all. The top nine finishers among, in this case, 18 candidates represent the district on the 90-member DTC. So it's possible to end up with a mix from both slates, depending on the choosiness of electors.
This contest combines the heart of the West Side, west of Park Avenue, taking in the nicely manicured homes of the Brooklawn hamlet as well as the lower portion of the district south of North Avenue bounded by State Street and Fairfield Avenue, a predominately working-class area.
This is also an absentee ballot district that includes several experienced operatives who know their serial absentee voters. The Town Clerk's Office is mighty busy processing absentee ballot requests throughout the city.