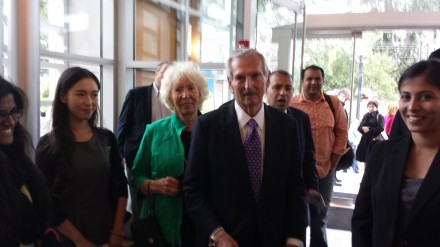 Ernie Trefz, a Bridgeport business community titan for decades whose Downtown-based Trefz Corporation owned dozens of McDonalds franchises, commercial real estate and apartment buildings, passed away Saturday morning. He was a major benefactor of the University of Bridgeport including a business school named for him. He was 84.

As a young man working with his father at the Roessler Packing Company, a regional provisions supplier located Downtown, Ernie established a relationship to supply ground-beef patties with regional McDonald's outlets.
As Ernie noted in the first edition of the book Only In Bridgeport in 1986, the relationship inspired an idea in his "Horatio Alger" career.
"It didn't take me long to realize that I was on the wrong side of the hamburger," he said. "When the first McDonald's opened in the late 1950s, I could see such great opportunity for this crazy red and white building with the hoola hoops that sold hamburgers for fifteen cents. It was perfect for me. I knew the food business and I was ready to get in on the ground floor of a brand-new enterprise."
He built his business empire with his brother Christian.
Ernie did not enjoy the singular McTrefz moniker. He considered himself a multi-faceted entrepreneur with holdings in banks, commercial real estate, housing. In 1984, the Trefz brothers purchased Park City Plaza on Middle Street that became a 17th floor headquarters. Later they would purchase the adjacent Holiday Inn.
Ernie Trefz's wife Joan told the Connecticut Post services will be announced shortly.
What follows is an OIB story from September 10, 2014 that highlights the dedication of Ernest C. Trefz School of Business.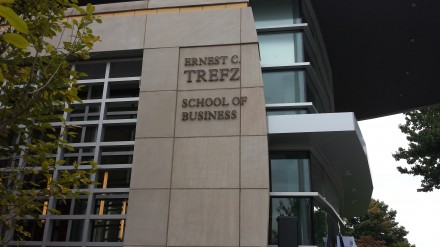 Saluted by university officials, business titans, Lieutenant Governor Nancy Wyman and Mayor Bill Finch, Ernest C. Trefz, better known as Ernie, announced on Tuesday he was "proud to play a role in the past, present and future" of the University of Bridgeport that dedicated a new business school in the entrepreneur's name featuring a newly designed atrium equipped to host events, seminars and conferences to allow students to collaborate on group projects including 80 new computers in three labs and new SMARTBoard technology.
Trefz, owner of the Bridgeport Holiday Inn Downtown, and numerous McDonald's franchises in the region, has been a major UB benefactor for decades. Some in the crowd stirred as University of Bridgeport Vice President Mary-Jane Foster welcomed Trefz's family and friends gathered outside the new building along Park Avenue. Finch, who had boycotted the university for decades after an arm of the Unification Church rescued the university financially more than 20 years ago, quietly moved in for an appearance on UB soil joining the podium of dignitaries to honor Trefz, and taking a seat next to City Council President Tom McCarthy who has attended many UB events.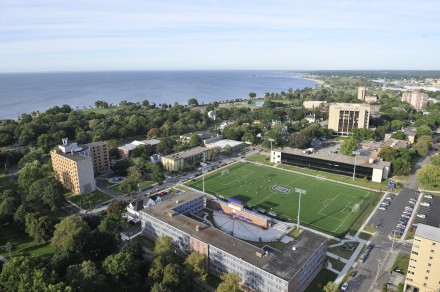 UB Campus
For members of the mayoral staff and business community leaders who had prevailed upon Finch throughout the years to embrace the university's brainpower and economic impact, it was welcome news to see Finch's presence declaring "Ernie Trefz day in the great city of Bridgeport." Finch even shook hands with university president Neil Salonen, who along with his assembled team has shepherded a great period of growth, and exchanged pleasantries with Foster, his 2011 Democratic primary opponent. For Finch, his presence was about saluting Trefz rather than a regular practice. Still, it has at the very least broken the ice in a touchy relationship with the university that once employed him.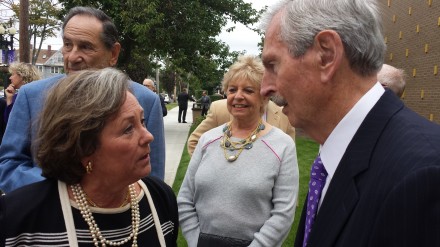 Mary-Jane Foster, then a UB executive with Trefz on dedication day.
For some in the crowd, Finch's presence was surreal. Many had thought they'd never witness this day.
Finch was a city councilor in the early 1990s when the university was bleeding badly during the New England financial collapse. An arm of the Unification Church that Finch viewed as a cult group invested in the university. He boycotted university events irrespective of overwhelming evidence the Unification Church posed no threat to his concerns about university influence. Several Finch friends and supporters even sit on the Board of Trustees of the university.
The university is undergoing a renaissance in growth both in program offerings and new construction, a point Trefz made as he thanked the attending audience. "It's all about family," Trefz announced. "UB is part of my family … UB has stabilized the neighborhood contributing to the vibrancy of the city." Trefz also thanked the mayor for attending.
The electrifying speechmaker Marian Heard, a university alumna, former president of the local United Way and founding president of the Points of Light Foundation, regaled the crowd about the university's impact on her life, declaring the new business school a technological wonder.
Addressing the crowd, David Carson, retired chief executive officer of People's Bank, highlighted the campus location along Long Island Sound connected to Seaside Park designed by architectural genius Frederick Law Olmsted. Whether a designed nod or not to Finch, in doing so Carson raised the name of Finch's architectural hero Olmsted who also designed Beardsley Park just steps away from the mayor's home.
In his remarks in praise of Trefz, Carson said "We need to think about the future and prepare people for what's next … taking ideas and putting them into practice to produce the kind of people to a build a future."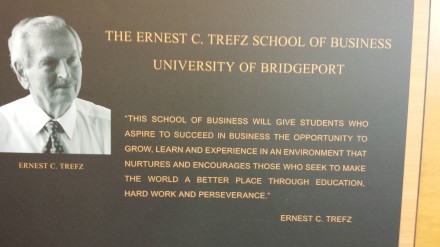 Trefz, not one to accept adulation easily, said he was a bit taken back by the size of the crowd and those who took the time to thank his generosity to the university. In a quiet moment he told OIB, "I'm grateful. This is a proud moment."