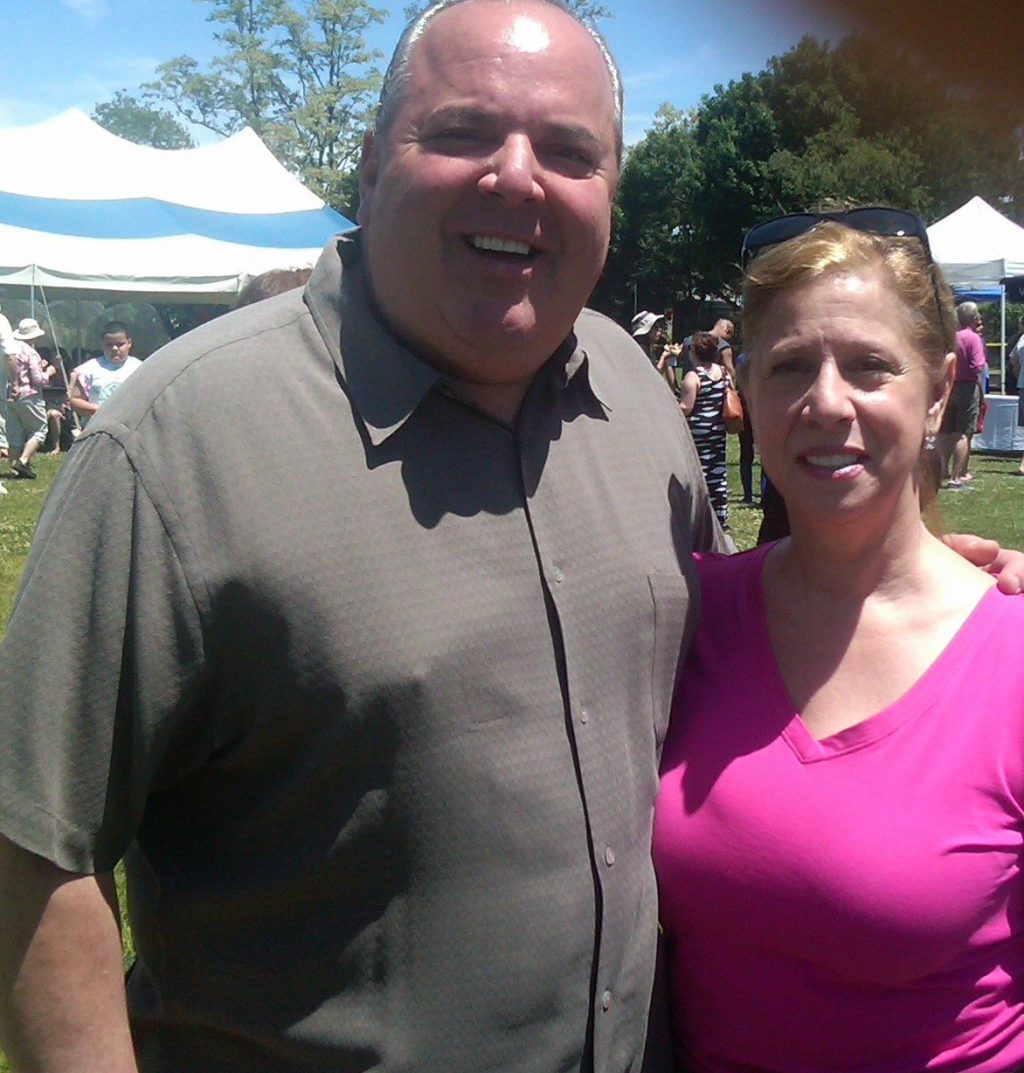 A sensitive guy with a booming heart, former Mayor John Fabrizi bleeds Bridgeport. As a retail politician he exuded a sympathetic touch with the blue-collar voter.
He's still part of the Bridgeport fabric splitting his time in retirement between his Florida winter home and his warm-weather Park City. A few weeks ago he hosted the inaugural Bridgeport legends night saluting leaders we lost the past year, City Sheriff Dennis Scinto, Police Sergeant Gene O'Neill and philanthropist Billy Carroll.
As an elected official he rose up through the ranks: Civil Service Commission, City Council representing the North End and then president of the legislative body prior to assuming the mayoralty in April 2003.
The former mayor has a deep reservoir of Bridgeport institutional knowledge he shares with us in our latest interview commemorating Bridgeport's Bicentennial.
Q. What is your first memory of Bridgeport?
A. As a young boy, our parents took us on car rides, and we would drive and sightsee in Downtown Bridgeport and some parks. We traveled north and south on Main Street, and east and west from Bull's Head to Railroad Avenue, as I know it today.
Bridgeport looked like 42nd and Broadway [in New York City] with masses of people walking throughout the streets going in and out of many stores like H.L. Green's, Woolworths and Gimbels. I remember riding the elevators at Gimbel's and walking through the skybridge over John Street.
The Crystal Palace, the Sheehan Center, the merry-go-round, and the in-ground pool at Pleasure Beach, were some other of my earliest memories of Bridgeport, as well as strolling into the Grand Foyer of the Poli/Majestic Theatres. We would also stop by Remington Woods on Broadbridge Avenue where we would feed the deer.
Q. What are your ties to Bridgeport, and what do you do, either work or volunteer work, that benefits the city and its residents?
A. These days my wife Mary and I split our time between Bridgeport and Delray Beach FL, but my heart is always here keeping a pulse on what is happening in Bridgeport.
I also keep engaged in helping numerous non-profits with capital campaigns, special events and fundraisers. I have always believed in giving back to the community in which you live and work. Giving back is not just making a financial contribution, it is about giving of your time, your knowledge, expertise and your ability to listen and work with everyone.
I have a lengthy history in this community including public and elected service. I have served on many community boards, as well as served in appointed and elected positions in Bridgeport throughout my 37 years of service. Some of my service includes teaching 5th and 6th grades at Hallen School, teaching remedial math at Read school, serving as an Administrator at Central High school (my alma mater) and also Central Office, then serving as the Adult Education Director until my retirement in 2016.
Some of my elected positions included serving on the Civil Service Commission for almost 15 years, a City Council member for almost 6 years, 5 years as President, but my proudest achievement was serving as Mayor of this great City.
Q. What do you like best about Bridgeport?
A. I adore the resilience and tenacity of the people of Bridgeport. We are troopers and survivors. I also love and greatly appreciate our city's diversity. As it was stated many years ago … Bridgeport is a City of Neighborhoods celebrating many ethnicities. Are you aware that over 50 different languages are spoken in our public schools?
Additionally, I really enjoy our Parks … they are beautiful and serene, and are our namesake, "The Park City."
Q. Where is your favorite spot in the city to visit and why?
A. Seaside Park is my favorite place to visit in our City. There are many reasons why I feel this way. Seaside Park represents the City. Wherever you turn, you will see the makeup of our people and neighborhoods. Bridgeport is the biggest City in the State of Connecticut, but we have such a small-town feel where "everyone knows someone." I grow quite warm when I run into a former student whom I taught seeing and acknowledging their growth and success. I enjoy walking the beach and interacting with people. You almost always run into someone whom you haven't seen since childhood, or your teen and adolescent days.
Q. What's your favorite Bridgeport eatery and what do you like there?
A. This is a difficult question. It's hard to pick my favorite eatery in Bridgeport because during my life, I have eaten in a significant number of eateries in Bridgeport. There are just too many great restaurants here to just single out one.
Back through the 1960s-1980s, the Venetian Garden and Ocean Sea Grill were great places to eat, but we only went there on special occasions.
Today, Testo's Ristorante, including the Pizzeria [just over the Bridgeport line], Ralph 'n' Rich's, Joseph's Steakhouse, Ola Latin Kitchen, Brasa and PHO are some of our favorites. There are just too many others that we frequent, and really enjoy including, Portuguese, Spanish, Asian, Puerto Rican, Jamaican and Mexican spots just to name some of the other great choices that we frequent here.
Q. Where do you see the city going?
A. I feel that the City is somewhat in choppy and uncharted waters from everything that I read and hear. It seems there's a lack of stewardship. You cannot direct and guide a City effectively with so many "acting" positions. Employees look for stable leadership, and it's not happening. This is not a play, it's a business. And when you add in the uncertainty over how quickly the city responds from the pandemic especially in the area of economic development, it makes for even more stressful times.
The good news is that the pandemic seems to be hopefully just about over, and the City will be receiving an unprecedented amount of funding from the Federal and State Governments. If spent appropriately and by the guidelines, great things can happen, which will have an impact on the needy, much-needed services for all and especially the city's morale.
Q. If you had a magic wand and could make a miracle happen for the city, what would it be?
A. Togetherness … for progress!!!
Regardless of one's skin color, ethnicity, religion, sexuality and political affiliation, etc. … folks need to respect one another, and band together to make Bridgeport a better place to live, work and raise a family.
We need to initiate broader community discussions on initiatives that will help build a better Bridgeport, including but not limited to, initiating an effective community policing program, building a technical high school in Bridgeport dedicated to Bridgeport students only, supporting local businesses, and having our City employee population and programs reflect the demographics of our City.
Many flowers will grow and shine brilliantly by planting and watering these seeds resulting in literally Building a Better Bridgeport!
Happy 200th birthday, Bridgeport!