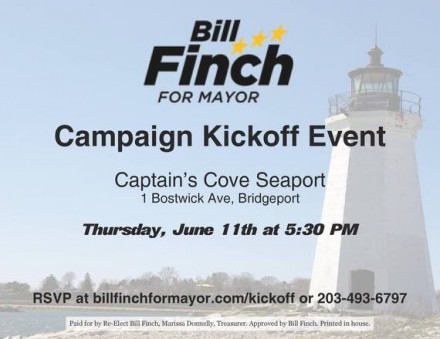 Mayor Bill Finch will launch his reelection announcement Thursday at Captain's Cove Seaport in a shout-out to the Black Rock neighborhood, by percentage the highest turnout area of the city that figures to be a major battleground with chief opponents Joe Ganim and Mary-Jane Foster.

Black Rock is Foster's home precinct, Black Rock District Leader Danny Roach is supporting Ganim who lived in the neighborhood while he was mayor. Finch spent his early childhood living there as well.
Finch will tout a number of development projects in the neighborhood including a renovated Black Rock School, new Longfellow School under construction, plans for a pedestrian bridge across Ash Creek to the Fairfield Metro train stop and streetscape improvements for the Fairfield Avenue business district.