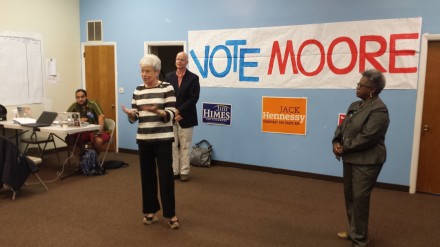 Addressing an eclectic configuration of roughly 50 city Democrats, Lieutenant Governor Nancy Wyman on Saturday drew a contrast between Republican gubernatorial candidate Tom Foley and incumbent Dan Malloy whom she described as a "guy who has a heart of gold who leads with his heart and his head … If Foley wants a Wisconsin moment,"  Wyman added, referring to Republican leadership in Wisconsin challenging collective bargaining rights of public employees, "I'll buy him a ticket and send him there."

"We all have to do this together," Wyman implored local Democrats at headquarters on Wood Avenue. "Bridgeport is very important to us. Please get out and work as hard as you can." She added "The real Tom Foley" is not in touch with the real problems facing everyday people.
Foley, spending more time in cities this cycle than his 2010 run for governor, says he has an urban agenda, but has not yet shared many specifics beyond a call for urban enterprise zones. Polls show a tight race for governor.
State Comptroller Kevin Lembo, the self-described "data nerd" talked about transparency and accountability he's brought to public service in how the people's money is being spent, adding Republicans "don't do government well."
State Senate candidate Marilyn Moore who defeated incumbent Anthony Musto in an August primary, set an optimistic tone for party unity, pointing out "The primary is over … today is a new day. It's important to reelect Governor Malloy … When I get to Hartford I will be a state senator you can count on."
Moore's campaign message focuses on serving as a bridge builder in the city-suburban 22nd District that covers Trumbull and portions of Bridgeport and Monroe. She faces Trumbull Town Councilman Rick Costantini, who also has roots in Bridgeport, in the general election.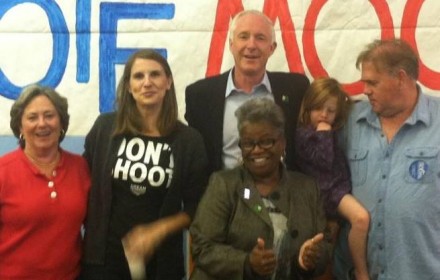 A diverse mix of party advocates attended, some who have not always worked together but apparently coming together for this moment in time. Mayor Bill Finch, former Mayor John Fabrizi who's formed an exploratory run for mayor and Finch's 2011 primary opponent Mary-Jane Foster were in attendance. While Finch supported incumbent Musto in the primary, Fabrizi and Foster backed Moore.
After the speaking was done Finch stayed around to chat with the party faithful including an extensive conversation with Moore who hopes to join the city's eight-member legislative delegation in Hartford led by State Senator Andres Ayala. What happens during the legislative process in Hartford hugely impacts the city budget.