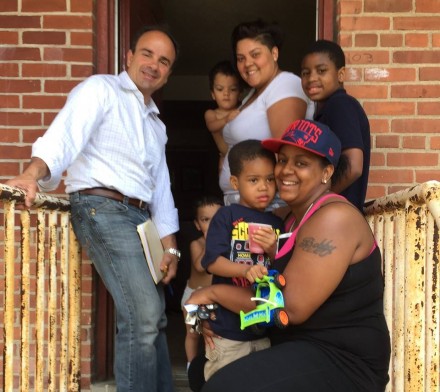 The thing about residents in P.T. Barnum Apartments, they have a short commute to vote–right in their back yard–in recent history Longfellow School (undergoing new construction) replaced by the Aquaculture School as a precinct, adjacent to the apartments, on the grounds of Captain's Cove Seaport. If you can get folks to vote, that is. Either way, it's not a place to ignore.

No full-blown campaign operation can afford to bypass the African American- and Hispanic-rich P.T., or for that matter any other housing project in the city. Mayor Bill Finch's political operation knows the territory well, counting on lock votes at the polling place or via absentee ballots. Families move in, families move out and a whole bunch are not registered.
Judging by former Mayor Joe Ganim's Facebook page, he's been working P.T. pretty good, visiting courtyards, knocking on doors, registering new voters. Ganim's a known entity there, perhaps adopting the P.T. Barnum mantra–I don't care what they say about me, as long as they say something. Showing your face can matter.
Black Rock District Leader Danny Roach, a Ganim supporter, has worked the territory for decades as well as the irrepressible Democratic Town Committee member from the East Side Wanda Geter who's backing Finch. What do you mean, Wanda's from the East Side but campaigns on the other side of the city? She's had a lot of practice. You go where you know your peeps. Wanda knows her peeps.
Republican City Councilman Enrique Torres, fluent in Spanish, campaigned in P.T. for both his council campaign victory in 2013 and the 2015 special election for State House where he came up short against Steve Stafstrom. A Republican is not going to win the precinct outright, but in campaigns winning is relative. Maybe mining a dozen extra votes there could make a difference backed by the Republican stronghold in the upper part of the Black Rock District.
Just over three months away from a September 16 Democratic primary, operatives are already working P.T. for new voters, old voters, serial absentee ballot voters. How many bodies do we have for P.T.? How much cash must we spend to turn out a vote?
It's part of the calculation in the circus of city elections, a legacy of the 19th Century showman Phineas Taylor Barnum whose circus winter quarters was situated around the corner.