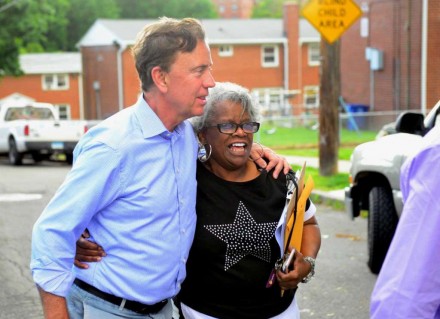 Backed by State Senator Marilyn Moore, Democratic-endorsed Ned Lamont on Tuesday campaigned for governor in Bridgeport in the African American-rich Trumbull Gardens area that went big for Joe Ganim in his 2015 comeback for mayor. Ganim's trying to qualify for an August primary against Lamont.

CT Post reporter Brian Lockhart has more:
From the community garden, Lamont strolled down Yaremich Drive to the Stone Ridge Cooperatives. Some longtime residents grew up in the troubled Trumbull Gardens low-income housing development nearby, a favorite campaign stop of Ganim's.

Lamont met with and fielded a few questions from a small gathering of co-op board members and local political leaders. His pledges were nothing new or detailed: He will be "the education governor," "the jobs governor" and improve transportation.

"For me, that starts in cities," Lamont said. "Look, Connecticut is not going to be great unless our cities are great."

Asked where he stands on a controversial proposal by MGM Resorts International to build a casino in Bridgeport, Lamont, specifying it would be a resort with a hotel, said: "I would not stand in the way of that. I'd like to see more development come to Bridgeport."
Full story here.