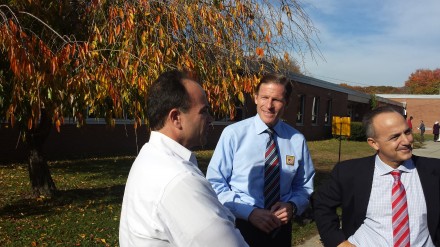 About 10 months from a Democratic primary–if there is a Democratic primary–Mayor Bill Finch has amassed a mighty $300,000 campaign warchest in his quest for a third four-year term next year. Several potential candidates have expressed interest in running for mayor while one high-profile pol, former Mayor John Fabrizi, has pulled out, sobered by the daunting process to raise money to wage a competitive contest.

The mayor who was the first elected to a four-year term in city history, Joe Ganim, never completed the term, replaced by Fabs, then City Council president, in April of 2003 when Ganim was forced from office following his conviction on federal corruption charges. Ganim toyed with running in 2011 following his release from the joint. He's been making the rounds chatting with city pols to test the strength of a comeback, even schmoozing pols and voters at polling places Election Day, accompanied by his brother Paul, judge of probate.
For all his baggage, there's still some nostalgia for Joe in some neighborhoods that saw progress and 10 years of no tax increases.
Among the candidates considering a run, former mayoral candidates John Gomes, Bob Keeley and Charlie Coviello, as well as school board member Howard Gardner and retired city police officer David Daniels. Can any of them can raise money to wage a competitive race?
Finch will have all the money he needs plus development projects teed up that he can boast on the campaign trail next year. Can he hold the line on taxes or at worst a small increase? When it comes to the competition, it's not what Finch spends so much as what the opponent spends.
Someone like Ganim, if he gets in, doesn't need as much as the others. Good, bad or ugly, many voters know him even though he's been out of office more than 11 years. A poll recently commissioned by John Fabrizi shows Ganim plays well in some areas of the city, not so in others. Ganim's buddy, former Providence mayor Buddy Cianci lost his bid last week to reclaim his old job after he was forced from office more than a decade ago.
Supporters of Mary-Jane Foster, Finch's 2011 primary opponent, are waiting to see if she goes again or sits it out.
On the Republican side two-time mayoral candidate City Councilman Rick Torres is pondering another run.
Other candidates could emerge, but based on the possibilities who would be your choice for mayor from the following field whether primary or general election? (Feel free to add names.)
Bill Finch
Joe Ganim
Mary-Jane Foster
David Daniels
Howard Gardner
Charlie Coviello
John Gomes
Bob Keeley