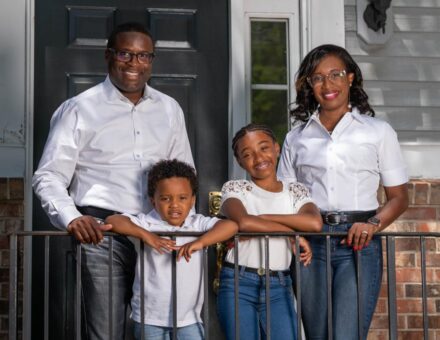 Daniels and family
In this curious world of Bridgeport politics, fanned by media frenzy over absentee ballots, Lamond Daniels enjoys a salient profile and message to become a factor in the general election as a petitioning candidate for mayor, following Mayor Joe Ganim's 251-vote primary win over opponent John Gomes.
Gomes has challenged that result in state court that will take weeks to play out. If the judge orders a new primary Ganim and Gomes will duke it out again. Either way, Daniels, Ganim and Gomes occupy general election lines in November.
Ganim's camp is reeling from surveillance footage, leaked a week or so later from inside the Police Department to the Gomes campaign: Wanda Geter-Pataky distributing what appear to be absentee ballots in a drop-box fronting the Morton Government Center on Broad Street.
Gomes and his Campaign Manager Christine Bartlett-Josie have known Geter-Pataky well for a decade or more, mostly as allies, but they posture the alleged treachery like someone who's an artifice that cost them the keys to City Hall, in a Trumpian way, "we really don't know her."
They know her quite well, when it was convenient to know her.
This is simply the soap opera narrative to win votes your way, drawing back in mock horror for all the media to see during a press conference – We were robbed but parenthetically (we wish we had Wanda on our team, unless she got caught on our team).
Wanda is a lot more than what is being portrayed. (More to come down the road)
And, that's how it goes in the blood-sucking jackal business of city politics. When you got something you go with it because who cares what happens along the way, as long as we win.
Gomes and Bartlett-Josie were both payroll backers of Ganim back in the day, now opponents because they were unsatisfied with their administrative roles, and parted ways. They and others formed a coalition to take out Ganim. They may get there, or they may not, nature of the beast.
None of this is about the sanctity of the vote. None of it. It's all about power to control.
That's the other side to this quirky coin. The Gomes campaign is no boy scout in its absentee-ballot unearthing. They've done it as well, led by the new queen of absentee ballots, City Councilwoman Maria Pereira who lost her council seat on the machines, lifted up by absentee ballots she hustled in her Upper East Side district, leaning heavily on senior citizens, under probe by law enforcement officials.
Will it lead to something, who knows? Maybe, maybe not.
The point is both sides play this game in the pursuit of winning. Pereira pledged never to support Gomes for mayor, but a deal happened along the way that satisfied another in a long line of Pereira reversals because something was it it for her.
Ganim and Gomes will go tit for tat in the weeks to come, throwing campaign grenades for doing the same thing.
Now comes why Daniels is relevant for a potential surprise.
He can argue both sides marinate in the same hypocrisy that undermines the sanctity of the vote. They both do it. Ganim does it and Gomes does it. There's no difference. One has power, the other doesn't care what it says or does to get there.
In the September 12 primary neither Ganim or Gomes set the world on fire, the lowest mayoral turnout in the modern history of intra-party squabbles: roughly 8,000 votes among 40,000 registered Dems. To compare, 2019, the last mayoral primary between Ganim and Marilyn Moore, 10,500 participated.
It proves conclusively, Ganim and Gomes did not excite. Ganim turned out a low base-party support and Gomes a low anti-vote. It was anemic.
Ganim's a professional politician who's trying to figure out electorate discontent. Gomes is trying to figure out why didn't I croak him on the machines. What went wrong?
Neither side executed clarity. Now, a court must decide the primary challenge.
Meanwhile, Daniels can lung to the high heavens, I am not Ganim, I am not Gomes, I got into this to avoid what they both represent: manipulation of the sanctity of the vote to covet power.
Daniels brings credentials to the table both in Bridgeport government and larger in his administrative role for the city of Norwalk.
He's earnest, likable and refreshing, strong family man.
If he can raise the money and draw a compelling wedge contrast between Ganim and Gomes, about what he represents, don't discount him.