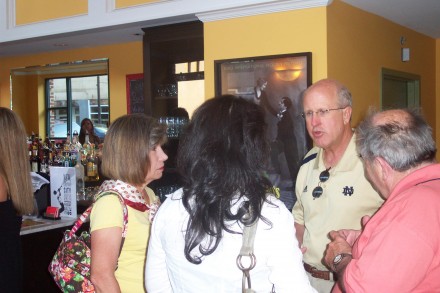 Who says David Walker doesn't know how to have fun? A day in Port Jefferson, a game of pickleball, beef at Joseph's Steakhouse Downtown, reading his favorite local political site OIB. Okay, maybe the OIB part is a stretch. In a birthday-of-the-day interview with POLITICO, the Bridgeport resident and 2018 Republican candidate for governor responds to questions about his career start, the Trump presidency and unknown fun facts. If you're gonna run for public office, might as well play pickleball, right?

Let's see, what about a gubernatorial-candidate game of pickleball between Walker and Trumbull First Selectman Tim Herbst versus Danbury Mayor Mark Boughton and Shelton Mayor Mark Lauretti? On second thought, let's make it Herbst and Boughton versus Walker and Lauretti. The way Herbst and Walker have been going at each other that's a better matchup.
How is the Trump presidency going? "You got a new Supreme Court justice which is a plus but not much has happened in regards to his legislative agenda. And that's going to need to change before the midterm elections. The president is finding out that Congress is an independent branch of the government and just because you wear the same color uniform doesn't mean you vote the same way."

What's a fun fact that people in Washington might not know about you? "I'm in two Halls of Fame. The Accounting Hall of Fame which is international and in Columbus, Ohio and the Internal Audit Hall of Fame in Orlando, Florida. A second fun fact is I used to work for the Miami Dolphins when I was in high school. I probably had the best high school job in America. I did statistics, I did bed checks and issued fines if the players were late and I did whatever the head coach and Bob Griese wanted me to do. Griese was the quarterback for the undefeated Super Bowl team, although when I was with the Dolphins, it was in their formative years not their undefeated Super Bowl year.
Full interview here.