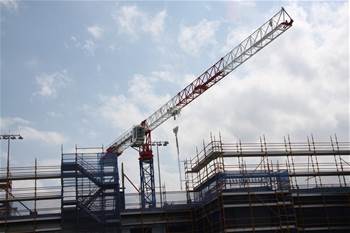 OIB resident curmudgeon Andy Fardy writes frustratingly about the cranes that line the shoreline along I-95, but not his home city. Will we see cranes soon for construction of Bass Prop Shops? Fardy commentary:
I was driving on I-95 this week and noticed all the construction cranes that were in use in towns along I-95. I saw cranes at work in Stamford, Norwalk, Milford and New Haven. There were no construction cranes working in Bridgeport.

What does this mean? It means these other towns are adding to their tax base and are bringing jobs to their cities. One has to ask why don't we see construction going on in the state's largest city. We have plenty of vacant land that is available for development. We are offering tax incentives to developers and yet no one comes here. Why is that?

Can anyone remember when a new building and business was built in Bridgeport? New schools don't count.

We are in negotiations with GE over property that formerly housed large manufacturing buildings. I then read in a local business paper that GE is building a large corporate building with 1,400 jobs in Cincinnati Ohio. Why not Bridgeport?

To me it begs the question, does it cost too much to do business in Bridgeport? Do too many people have their hands out? Years ago when I was a park commissioner we put out an RFP to lease the bathhouse at Seaside Park. We received one bid and after vetting the bidder and making sure he had the financing in place we gave him the bid and allowed him to serve alcohol at his catered events. The contract went to the city attorneys office and came back approved but no liquor could be served. The individual was told to see a connected local lawyer which he did and was told on top of his $1,000,000 investment he needed to come up with another $35,000 so he could serve alcohol at his events. This person told the lawyer to take a hike and he told Bridgeport to take a hike.

Do I think the cost of doing business in Bridgeport is too high? The answer is yes. I have been the recipient of two substantial bribe attempts by people wanting to do business in Bridgeport. Both were refused and both were reported to the Feds. Needless to say, they did squat.

It's taken 27 years for steel point to get to where it's at. Nowhere. Everyone says they don't want big box stores there, well drive by Walmart in Stratford and check out the full parking lot. That's the sign of money being spent you hear.

Bridgeport's plans are delusions of grandeur, luxury housing, boat marinas and the like. Okay, where the hell are they? I would rather have a Walmart (which I hate) paying taxes and providing jobs than bullshit dreams of luxury housing.

Maybe it's time for people in Bridgeport to stand up and ask what the hell is going on. I know that's asking a lot but if the people do not stand up, these crooked politicians will keep doing what they do and that is screw you and me.