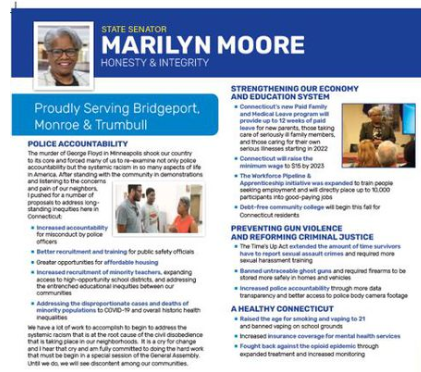 In the old days they were called franking privileges: legislators' taxpayer-paid mailers to communicate with constituents. Essentially they become a surrogate boost to an incumbent's reelection campaign. For Connecticut legislative races, there's a 100-day cutoff before the November general election. But what about a summer primary?
Foul, says City Councilman Marcus Brown. Fair, asserts State Senator Marilyn Moore. Party-endorsed Brown and three-term incumbent Moore will square off in an August 11 Democratic primary.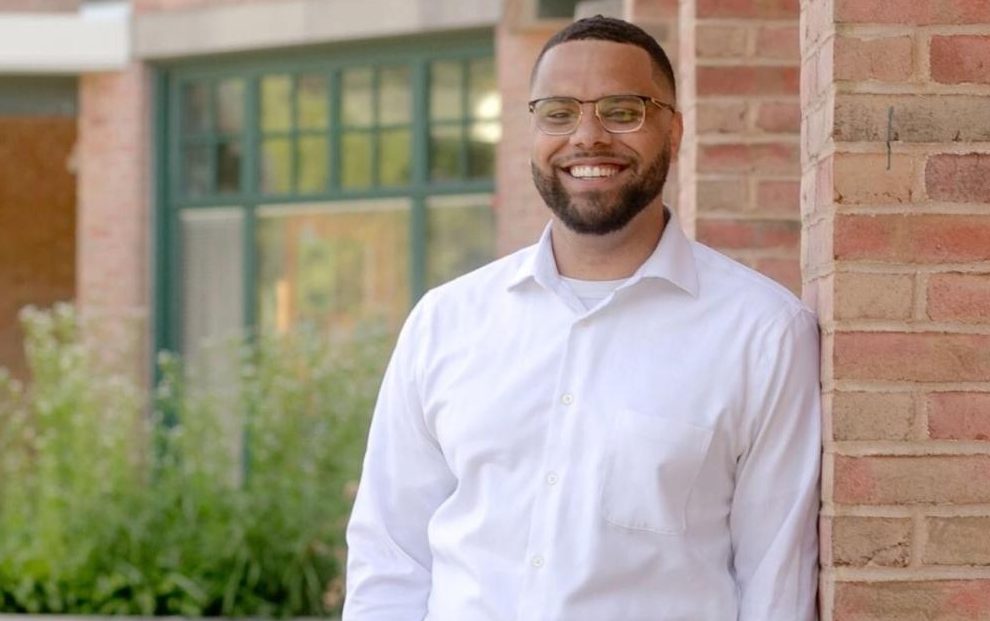 The Hartford Courant's John Lender reports the taxpayer tab for incumbents communicating with constituents, even while out of session during Covid, is almost $1 million taxpayer dollars.
But not everyone is impressed by the supposed fairness created by the mailing deadline–including Bridgeport City Councilman Marcus Brown, who is facing Moore, the incumbent senator, in an Aug. 11 primary

Brown said in a phone interview Thursday that Moore's mailers have been landing in local mailboxes too close to the scheduled primary, now less than two weeks off.

He said he's seen Moore's mailings, which he called "her quote, unquote, 'constituent update mailer,'" and he added: "Oh, it's a campaign brochure, all right"–in effect, anyway. Brown said that in recent months, Moore also had recorded robocalls about the coronavirus crisis that played her voice on the phones of citizens in the district. They were paid for by the Senate Democratic Caucus as a government expense.

Brown said, "It's crazy that I have to abide by a certain set of rules"–including living within a $107,000 candidate's budget under the state's public-financing campaign grant program–while Moore not only gets the same $107,000 state campaign grant, but also enjoys the state-funded benefits of the district-wide mass mailing and the robocalls.

Asked Thursday about Brown's criticism, Moore said in a phone interview that "I have been in his place before," in 2014, when she defeated then-Sen. Anthony Musto in a Democratic primary and went on to win the November election. "I appreciated, regardless of who sent [legislative mailings from the incumbent] that my legislator was communicating with me throughout the year," she said.
Full story here.
Statement from Brown:
Marcus Brown, candidate for State Senate in the 22nd District, is calling for further restrictions on the use of taxpayer-funded mailings in the 90 days leading up to any election in light of a new Hartford Courant article. The piece, written by John Lender, details the inappropriate use of taxpayer funds by Senator Marilyn Moore and other state legislators to send campaign materials to constituents. Lender reports that even though the Senate passed just one bill in this year's session–the state bonding package–Moore and other legislators spent more than $900,000 on district-wide mailers.

"Legislative mailers like this may meet the letter of the law, but certainly not the spirit of the law," said Brown. "It's shameful that Moore is spending scarce taxpayer dollars for re-election while our schools, our communities, and our neighbors suffer. Further restricting the inappropriate use of taxpayer-funded mailers by incumbents weeks before an election will be among my first proposals as a member of the State Senate. To protect taxpayers and level the playing field for candidates, I propose a ban on ALL government-funded mailers 90 days prior to a primary or general election."