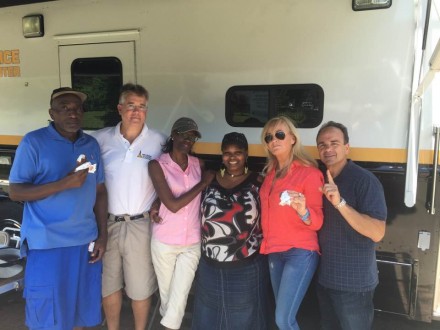 A Republican was spotted in the East End over the weekend. When it comes to the African American-rich Democratic neighborhood in the state's largest city where Democratic Mayor Joe Ganim ran up large pluralities last year, Republican political players have gone the way of the 8-track player. GOP congressional candidate John Shaban, a friend of the mayor, shared a photo of him with Joe on Shaban's Twitter and Facebook page standing in front of the City Hall on Wheels vehicle, stationed in the East End, that the mayor announced last week would be visiting city neighborhoods. Shaban is challenging four-term Democratic incumbent Jim Himes.

"Handing out water and help to folks in the East End #Bridgeport," Shaban wrote on social media Sunday. "Thanks to M. Ganim et al."
Shaban is also a member of the Connecticut State House representing Easton, Redding and Weston. Ganim and Shaban became friends when their children attended school together.
Shaban's congressional campaign also issued this news advisory about a Tuesday morning press event.
"Bridgeport Police Chief Armando Perez and Representative John Shaban will discuss the Bridgeport Police Department's efforts to remove illegal firearms from the streets. Attendees will include local, state and federal law enforcement officials. Mayor Ganim's office has been invited."
Where? "Office of Chief Perez."
Ganim will not attend the presser. He's at the Democratic National Convention in Philadelphia.
Perez is Ganim's hand-picked chief who'd only be doing this event with a green light from Ganim. So Ganim is juggling a friendship while presumably supporting Democrat Himes. These things can become a tricky balancing act between friendship and practical politics. This is a crazy election cycle, but it would appear Shaban, a moderate, has a lot of work to do to take out the well-financed Himes and his strong base of support in the district in a presidential cycle in which voter performance increases in urban areas. Himes supported incumbent Bill Finch in his primary loss to Ganim in 2015, but Himes was among the first establishment pols supporting Finch to show his face in Ganim's campaign headquarters after the primary.
Connecticut's 4th Congressional District is an intriguing study of poverty smack up against enormous wealth. Jump on I-95 from the economically challenged East End and within 10 minutes some of the swankiest estates in the country are within reach. The district features 17 communities running from Bridgeport along Long Island Sound to Greenwich and inland to Easton, Weston and Redding. From 1968 to 2008 moderate Republicans Lowell Weicker, Stewart McKinney and Chris Shays occupied the seat. Himes won the seat in 2008 riding Barack Obama's electoral tsunami winning only the three cities in the district–Bridgeport, Norwalk and Stamford–in blowouts to offset Shays' suburban base. Himes has earned his own stripes as a moderate in the ensuing elections winning many of those suburban towns that have historically voted Republican.
For the most part Republican candidates and strategists just give up on urban voters without recognizing that winning is relative. You can win by losing if Republicans could figure out a way to increase their pathetic voter performance back to doable numbers. For 18 years, until 2008, Shays never performed under 30 percent in Bridgeport. With changing demographics and anemic messaging to urban voters GOP candidates are now hard pressed to crack 20 percent citywide.
Sometimes, little things mean a lot. The East End is one of those so-called food deserts. There's no neighborhood grocery store. They shop, they want jobs, their kids attend schools, they pay taxes just like everyone else. Does anyone talk to them on an economic level that connects? It certainly can be a hard sell given the voter cynicism, but generally the Republican candidate, particularly during gubernatorial and presidential cycles, shows up for a feeble media event, and that's it. They, and surrogates, never put the real time in it will take to increase margins.
Is Shaban different?