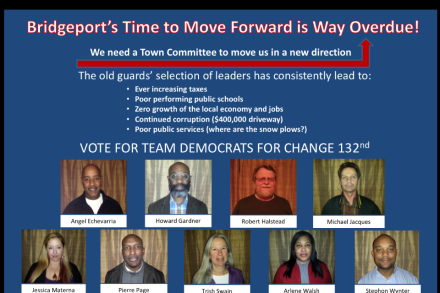 With seven district primaries possible throughout the city, one slate for Democratic Town Committee has qualified for a March 4 primary on the West Side and already has a Facebook page in a showdown against a veteran slate of campaigners. This will be a mighty fight.

A challenge slate of nine consisting of Board of Education member Howard Gardner and City Council members Bob Halstead and Trish Swain will take on a slate that includes Lisa "Honey" Parziale and former council members Evette Brantley and John Olson. This district battle, as well as several others shaping up around the city, appears to be an extension of last September's Democratic primary when all endorsed candidates for school board and City Council were defeated, a 50-year storm as city politics go.
Can they harness the same voter anger from last year? These town committee fights are as retail as retail can get. You don't need much money for these encounters, just a ferocious campaign appetite to identify your friends and drag them out. Absentee ballots become a critical component of these battles for a late winter contest.
Parziale, the former City Council president, knows her district peeps. "Honey" is not afraid to pull out her political stinger when her district territory is under invasion. Brantley and Olson lost to Halstead and Swain last September.
Some of these district challengers will turn the contests into a referendum on Mayor Bill Finch. If they're successful the town committee could see a major overhaul that will impact the endorsement for mayor next year. Parziale, however, is one of several on her veteran slate not exactly buds with Finch. Parziale, along with other West Side activists, kept the Central-132 voting precinct competitive in support of Mary-Jane Foster for mayor in 2011.
Elections officials have been busy reviewing petition sheets of slates trying to qualify for the ballot. If all petitioning slates qualify, we could see about 150 candidates on district ballots across the city. Bridgeport's 90-member Democratic Town Committee conducts party business, endorses candidates for public office and selects a chairman.
132nd District challenge slate Facebook page here.