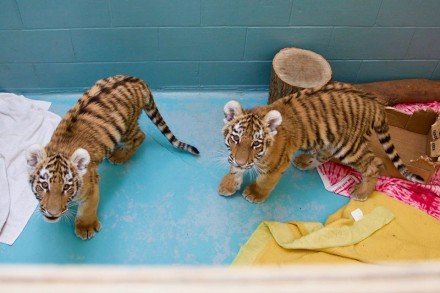 They are 50 pounds and growing, perhaps reaching adulthood 500 pounds as the largest cat in the world. It's rare that a zoo can feature two Siberian tigers born in captivity, but that's what happened on Wednesday as hundreds lined up for the coming-out event for the cubs born several months ago at Connecticut's Beardsley Zoo.

Talk about a pride point in Connecticut's largest city, Zoo Director Gregg Dancho has dedicated his professional career featuring endangered species. On Wednesday he introduced not only two rare Siberian cubs (aka Amur tigers) but also three endangered maned wolf pups to the public.
Oh by the way, mark your calendars because OIB will celebrate its 10th anniversary with an extravaganza at the zoo on May 23. You're invited to the party, of course. Details to follow. Welcome to the jungle, baby!!! If any pols get out of hand we'll do the only appropriate thing under the circumstances: feed them to the tigers. What's wrong with a little political protein, right?
From the zoo:
The five Zoo babies are all part of the Association of Zoos and Aquariums (AZA)'s Species Survival Plan, and were planned births to sustain both endangered species for a future world. Both the tiger cubs and the maned wolf pups will be on view in their habitats from now on, barring bad weather or special circumstances requiring them to be kept indoors.

Bridgeport Mayor Joseph P. Ganim joined Zoo Director Gregg Dancho and Deputy Director Don Goff in introducing the cub and pups, and provided the professional animal care staff responsible for caring for the pups and the cubs with city citations, acknowledging their contributions to saving these rare animals.

The citations acknowledged "outstanding professional animal husbandry, including sound nutrition and exemplary animal welfare practices that led to successful breeding of a critically endangered species, and a healthy pregnancy for Changbai (Amur tiger) and Bonita (maned wolf). The following staff members received citations: Bethany Thatcher, Amur tiger animal care professional; Chris Barker, Amur tiger animal care professional; Rob Tomas, Zoo animal curator; Jenny Gordon, veterinary technician; Dr. (Doc) Hochman, Zoo veterinarian; Don Goff, Zoo deputy director; Greg Westman, maned wolf animal care professional; J.T. Warner, maned wolf animal care professional, Linda Tomas, registrar and maned wolf animal care professional.

Dancho thanked the Zoo's guests for their support and provided a preliminary drawing of the proposed new Amur tiger habitat. The Zoo is engaged in ongoing fundraising efforts to modernize and enlarge the size of the existing tiger habitat. Supporters are encouraged to join the Zoo's Tiger Trot on Saturday, May 5th, a fundraiser for the habitat and other Zoo projects. More information is available on the Zoo's website at www.beardsleyzoo.org/tiger-trot/.

"We're very happy to have our five newest Zoo additions–our maned wolf puppies and our tiger cubs–out for the guests to see today. Our animal care staff has worked very hard to raise these babies. The tiger cubs were born underweight, and after their mother declined to take care of them, our animal care staff had to step in and get them stable, and today you can see how healthy and happy those cubs are," Dancho said. "The cubs and pups are critically endangered species and they're invaluable animals."

About Amur Tigers
Amur tigers are a critically endangered species that is rapidly disappearing from wild areas. The cubs' survival is an important step in maintaining the genetic line of their mother, Changbai, and their father, Petya, and contributes to the genetic diversity of Amur tiger conservation worldwide. Over the last century, tiger numbers have fallen by about 95 percent, and tigers now survive in 40 percent less of the area they occupied just a decade ago. Poaching, habitat destruction and climate change have all taken a toll on the tiger population.

About Maned Wolves
The maned wolf is not really a wolf, but neither is it a fox. It is a canid, and is the only species in the genus Chrysocyon, meaning "golden dog." Described as looking like a fox on stilts, these shy mammals are native to South America, and dislike cold weather. For that reason, they have access to a heated enclosure year 'round. Part of the Zoo's Pampas Plains exhibits, they inhabit lowland grasslands and scrublands of Brazil, Paraguay, Argentina, Bolivia, and Peru.

About Connecticut's Beardsley Zoo
Spend the day a world away! Connecticut's only zoo, celebrating its 96th year, features 300 animals representing primarily North and South American species. Guests won't want to miss our Amur (Siberian) tigers and leopard, Brazilian ocelot, Mexican wolves, and Golden Lion tamarins. Other highlights include our South American rainforest with free-flight aviary, the prairie dog exhibit with "pop-up" viewing areas, the New England Farmyard with goats, cows, pigs, sheep, and other barnyard critters, plus the hoofstock trail featuring bison, pronghorn, deer, and more. Guests can grab a bite at the Peacock Café, eat in the Picnic Grove, and enjoy a ride on our colorful, indoor carousel. For more information, visit beardsleyzoo.com.