Does anyone listen to WICC any more? I was raised on it. News Director Tim Quinn, talk show genius Tiny Markle, a steady stream of news, information, traffic, weather throughout the day. You learned stuff. And a great history too. Before he went to Hollywood to star in Hogan's Heroes, Bob Crane was the WICC morning man.

I listen to the genial Tony Reno, a friend for 25 years, in the morning. Sometimes Jim Buchanan in the afternoon. In between it's a steady dose of syndicated prattle, conservative comic Dennis Miller and consumer warrior Clark Howard. At 10 a.m. following Reno, time to find other background noise. No news department. When was the last time WICC covered an event? Times have changed. Economic downturn. Ad revenue is down. Bodies cost moolah. Syndicated shows cost zero.
Atlanta-based media monster Cumulus wants to know one thing: how's the bottom line today? Isn't there a more creative way to engage local listeners with local knowledge during middays? Dennis Miller comes on and it's like death valley. Howard Clark comes on and it's like you want to choke on your credit card. And then when Buchanan requires an afternoon fill-in we might get the venerable Tom Scott, former state senator and gubernatorial candidate, who never viewed an arrest that didn't require the death penalty. Okay he says, time to fire up ol' sparky. Fry 'em, baby! What's that, you failed to pay the toll at an Indian reservation? Hook up jumper cables to his nuts!
Still, I'd rather listen to fry 'em up Scotty than Miller time. Scotty at least has a pulse. WICC celebrates 85 years in 2011. Be nice if we could celebrate with midday chatter.
BOE Battle
Things got a little testy at the Board of Education meeting Monday night. Parents, grandparents, school advocates let management have it for recommended closings of Roosevelt and Dunbar schools. The BOE has a flatline budget, union leadership has said no to concessions, more than 100 layoffs are poised. Doesn't sound like the noise will quiet down any time soon.
Can UB With Us?
UB and the University of Connecticut announced a partnership on Monday to train UB students to qualify for UConn's School of Pharmacy. Mayor Bill Finch was not there. Chief of Staff Adam Wood was in his place. Despite all the good stuff UB does for the city–jobs, economic impact, brain power, technology, state accreditation; hizzoner continues his blind boycott based on two decades of misplaced information following funding from the Unification Church that saved the institution from closing. A cult, the mayor maintains. You mean like the Catholic Church and Bridgeport Democratic Town Committee?
Gee, does this mean the mayor, a UConn alumnus, will boycott the state's largest public educational institution because of this partnership? I wonder, if Barack decides to visit any one of UB's outstanding programs would Bill boycott? C'Mon, Bill. From UB: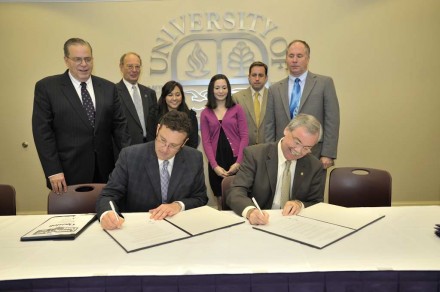 A unique new partnership between the University of Connecticut and the University of Bridgeport launched on Monday will qualify more students from Fairfield County for UConn's highly competitive School of Pharmacy.

Vice Provost for UB's Divsision of Health Sciences Dr. David Brady and Dean of UConn's School of Pharmacy Dr. Robert L. McCarthy signed the Memorandum of Understanding at UB on Monday that creates the innovate program by the two institutions.

"This unique partnership between UConn and UB – a public and a private university – opens the doors for a broad range of students to prepare for one of the finest pharmacy programs in the nation so they can obtain jobs in the expanding field of health care," said University of Bridgeport President Neil Albert Salonen.

Beginning in the fall of 2010, UB will offer a two-year pre-pharmacy program that complies with the rigid curriculum standards for UConn's Doctor of Pharmacy degree.

Students who complete their pre-pharmacy requirements in Bridgeport, regardless of their permanent residency status, will be eligible to apply to the UConn doctoral program in pharmacy as part of the new partnership agreement.

"We are very excited about this partnership with our colleagues from the University of Bridgeport and having a UConn presence in the city of Bridgeport," said McCarthy, dean of the UConn School of Pharmacy. "UB attracts a diverse group of students—many of whom are first-generation college students—and we look forward to providing these students with an opportunity to pursue a career in pharmacy."

The UConn School of Pharmacy, with its Doctor of Pharmacy degree and research-intensive graduate programs in medicinal chemistry, pharmaceutics and pharmacology/toxicology, has a reputation as one of the best pharmacy education programs in the nation and attracts some of the best and brightest national and international students.

"This collaboration will expand pre-pharmacy education in the state of Connecticut and allow new opportunities for a wide diversity of well-qualified students to pursue pharmacy as a career," says David M. Brady, vice provost for the health sciences division at UB. "The UConn School of Pharmacy has been wonderful and enthusiastic in supporting the University of Bridgeport's desire to include expanded quality pre-pharmacy education as part of its offerings in the health sciences."

For other University of Bridgeport news please go to www.bridgeport.edu