Weeks after mayoral candidate John Gomes accused a supporter of Mayor Joe Ganim stuffing absentee ballots into a drop box captured by video, a stream of surveillance tape grabs several Gomes supporters doing the same, adding a new twist to this surreal campaign cycle.
Video reels, showcasing two drop boxes in the days leading up to the September 12 Democratic primary, show candidates and operatives supporting Gomes making multiple dubious deposits into the boxes.
The opening reel shows what appear to be losing City Council candidates from the East Side, Josue Jorge and Maria Hernandez, dropping ballots multiple times.
The video segues to City Councilwoman Maria Pereira also making a drop that is likely her own ballot, a legit deposit, because her ballot date coincides with the date of the video. It does, however, raise the question of why she didn't vote at her Hooker School polling place. The next frame is less clear of two people interacting with what appear to be ballots.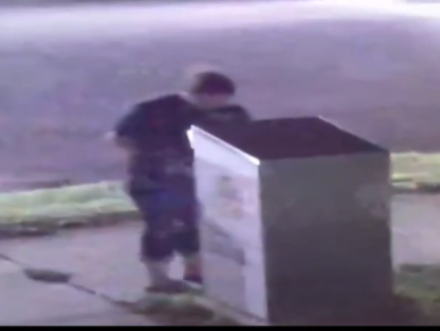 Gomes supporter at ballot box.
The final videos highlight numerous dumps made what appears to be another Gomes supporter Maria Agueda.
Add all this up and it shows a messy situation infecting both campaign camps.
Gomes is challenging Ganim's 251 primary win in court arguing absentee ballot machinations cost him the primary. But now the skullduggery has a twist of hypocrisy that team Gomes must answer.
There are several other operatives from both the Ganim and Gomes camps also captured on film dumping ballots.
The handling of absentee ballots, per state law, is limited to close family members, caretakers and police officers.
Strategically, this new video raises both legal and public relations questions.
Superior Court Judge William Clark has set Oct. 12 as the start of mayoral candidate John Gomes's challenge of the Democratic primary won by Mayor Joe Ganim by 251 votes.
Both sides doing this could play into the Gomes narrative that it's impossible to know who won. Then there's the public relations nightmare for Gomes who must now address the hypocrisy angle that no doubt will be raised by statewide media covering the race.