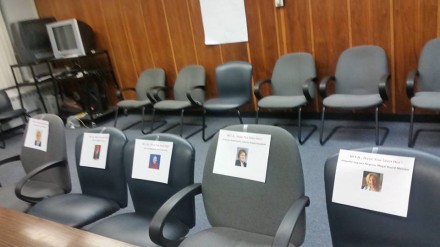 Who will win the public relations war in the historic school board boycott? Board of Education member Maria Pereira affixed fliers to the empty seats before the start of Tuesday's Finance Committee meeting.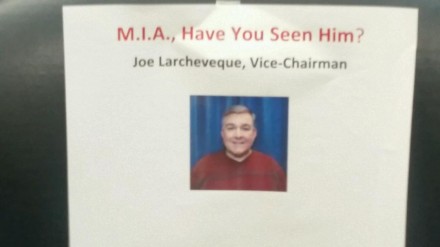 In a Facebook post Pereira wrote:
These signs will be placed at every BOE meeting until Dennis Bradley, Joe Larcheveque, Kevin McSpirit, and the illegal Annette Negron, and Interim-Superintendent Fran Rabinowitz show up to our Board Meeting and do their jobs!
In an OIB comment she wrote:
Howard Gardner is Chair of the Finance Committee. He held his Finance Committee Meeting tonight with Ms. Baraka, Mr. Walker and myself in attendance.

I had a friend make a flier for all four M.I.A. BOE Members and the Interim-Superintendent that stated the following:
M.I.A. Have you seen her/him?
Each of their titles and photos were on the flier. I taped the fliers to each of their empty chairs, took photos and shared them on Facebook.