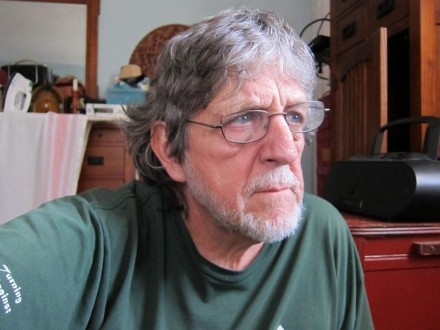 Charles Walsh has a peculiar perspective on life that jumps off the pages of his craft. The Connecticut Post columnist, world-class fisher, bizarre story teller, will showcase his pen and ink drawings, watercolors and collages at Framemakers, 3004 Fairfield Avenue in Black Rock, starting this Saturday. An opening reception for the exhibit will take place Saturday from 2 to 4 p.m. You'll want to meet this man because when you do your life will never be the same.

Walsh says his art "flows directly from the incessant pencil and ballpoint sketches" he did in his subject notebooks while he was in grammar school and high school. He's a "compulsive drawer," whose work seems to come more from his pen tip than his mind. A random squiggle can turn into a face or cup and saucer.
Walsh has previously shown his artworks at the The Gallery At Black Rock and Gallery 305 in Bridgeport. His drawings have appeared in The New York Times, Connecticut Magazine and numerous other publications.
It's not often I've felt close to death, but one of those times was with Charlie about 25 years ago. In search of stripers, we boarded his rowboat powered by a 30-year-old motor into the Housatonic River. The sky was dark and ferocious looking. I didn't understand why we were going out while so many other boats were coming in. "Don't worry," Charlie reassured, "it'll blow over."
"Looks like a rattlesnake coming out of the sky," I countered.
"Not a problem," said Chuck, wind blowing, boat twisting, my loins loosening. He made it sound like it was a fart in the wind. Next thing we know we're on the verge of Gilligan's Island, swept up by sound and wind. "We have to head back," Chuck proclaimed. (No shit!) Except it was a like a rowboat against the tide. The chop overwhelmed the motor. Our only chance was to beach the boat in the Stratford sand.
Ooh, ah, he, ho, never had I rooted to eat so much sand. We made it safely onto the beach, near some rifle club, with a couple of beers to spare to kill the pain. We have not fished together since that day.
Please visit Charlie on Saturday. Please buy his work. But please, never ever fish with him. This is Charlie's tribute to that day.