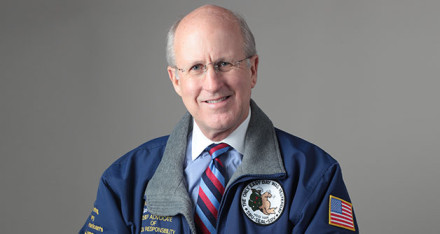 Bridgeport resident David Walker, former U.S. Comptroller General and 2014 Republican primary candidate for lieutenant governor in Connecticut, has joined PricewaterhouseCoopers as a senior strategic adviser, according to a post on his Facebook page. Walker will be based in McLean, Virginia.

In a text exchange with OIB, Walker writes he has agreed to give the company an average of eight days a month through the end of 2016. He finished a close third in a Republican primary for lieutenant governor last year. Shortly after he placed a for sale sign on his waterfront home on Beacon Street in Black Rock where he pays roughly $34,800 a year in taxes. He listed it for $1,675,000.
At the time he said, "The results of the upcoming elections will have a major impact on how long we remain in Connecticut. We love Black Rock, our home and our neighbors. We would like to stay a while. However, we need new leadership at the state and local level if we want to create a better future and keep people in the city and state."
Walker supported Republican gubernatorial candidate Tom Foley who lost to incumbent Democrat Dan Malloy for a second time last November.
Walker purchased the home in 2009 for $1,550,000 from former Republican Congressman Chris Shays who sold it after he was defeated by Democrat Jim Himes in 2008. Shays purchased it from David Carson, retired chief executive officer of People's Bank, who bought it from Betty Pfriem, former publisher of the predecessor papers to the Connecticut Post.
Walker had contemplated a challenge of Democratic U.S. Senator Richard Blumenthal in 2016. He writes "I do not currently plan to run for U.S. Senate in 2016 although many people would like me to do so."
Company news release:
PwC US announced today that the Honorable David M. Walker has joined the firm as a senior strategic advisor in the Public Sector practice. He will be based in PwC's McLean, VA office.

Walker has served in several high-level leadership roles, including serving as the seventh Comptroller General of the United States and as head of the U.S. Government Accountability Office (GAO). He also served as the first President and CEO of the Peter G. Peterson Foundation and founded the Comeback America Initiative, where he led national campaigns to promote fiscal responsibility and sustainability and build public support for various solutions to the nation's federal, state and local fiscal imbalances.

"Over the course of his storied career, which spans four Presidential administrations, Dave has led several widely acclaimed transformation efforts–many of which remain the current model across all levels of governments today," said Scott McIntyre, PwC's U.S. and Global Public Sector leader. "As a leading authority on government transformation and fiscal responsibility issues, and with extensive experience in both government and private industry, Dave brings unique perspective to the challenges our government clients face. We're pleased to welcome Dave to PwC and look forward to working together to help clients address their most important issues, from strategy through execution."

Walker currently serves on the PCAOB's Advisory Council and as Chairman of the Government Transformation Initiative. He is a Fellow of the National Academy of Public Administration (NAPA) and the National Academy of Social Insurance (NASI). His international experience includes serving as the first Chairman of the Independent Audit Advisory Committee for the United Nations.

"I'm very pleased to join PwC's Public Sector Practice. I am looking forward to helping our clients improve their economy, efficiency and effectiveness, and to put their finances in order for both today and tomorrow," added Walker.

A frequent writer and media commentator on topics including fiscal responsibility and government transformation, Walker has authored three books and is also the subject of the critically acclaimed documentary "I.O.U.S.A."

He is a CPA and received a B.S. in accounting from Jacksonville University, a Senior Management in Government Certificate in public policy from the John F. Kennedy School of Government at Harvard University, and Honorary Doctorates from Bryant University, Lincoln Memorial University, Jacksonville University, and American University.