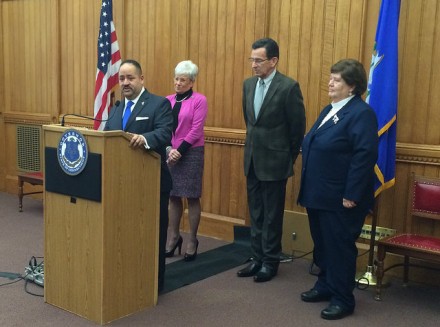 During the campaign trail for a second four-year term, Governor Dan Malloy said one of his goals was naming Hispanics to leadership positions in his administration. On Monday Malloy announced he will tap Bridgeport State Senator Andres Ayala as commissioner of the Department of Motor Vehicles. So instead of taking the oath of office for a second term as state senator, Ayala will become a state commissioner and a special election will take place to fill his seat. Line up the candidates.

Statement from Mayor Bill Finch:
"I couldn't be happier for my good friend, Sen. Andres Ayala. He has proudly served our state's largest city as an elected official for more than a decade. Working together, we've accomplished a lot for the Park City. We're building a second train station that will serve as an economic boon for East Bridgeport. We're developing Steelpointe Harbor, which will create thousands of jobs, after years of broken promises. We re-opened Pleasure Beach after nearly two decades of neglect. We're putting 5,000 solar panels and a fuel cell on an old and unused landfill. And, we're ensuring more kids have access to quality pre-k. These projects are happening in part because of Sen. Ayala's strong leadership in the State House. And, I look forward to working with Sen. Ayala in his new role."
News release from Malloy:
Governor Dannel P. Malloy today announced that he intends to appoint Andres Ayala of Bridgeport to serve as Commissioner of the Department of Motor Vehicles (DMV) when his second term in office begins on January 7, 2015. Ayala will succeed Commissioner Melody Currey, who currently serves in the role and will soon be transitioning as the incoming Commissioner of the Department of Administrative Services.

"Andres has dedicated himself to improving the lives of not only the residents of the district that he serves, but also the lives of the children he teaches in Bridgeport's school district," Governor Malloy said. "I had the opportunity to get to know him during my first term in office as Governor, and I've consistently been impressed by his passion for public service and his commitment to finding new and efficient ways to improve government services. While I know the residents of his district won't like to see him go, I am confident that his service as DMV Commissioner will benefit residents of the entire state."

Ayala is currently serving his first term in the State Senate, representing the 23rd Senatorial District of Bridgeport and Stratford. In that capacity, he serves as co-chairman of two committees–the Aging Committee and the Regulations Review Committee. He is the first Latino to serve in the State Senate. Prior to obtaining that office, Ayala served three terms as a State Representative for the 128th Assembly District. He also previously represented the 137th Common Council District in the City of Bridgeport for five terms, where he became the first Latino in the city to hold the position of Council President.

In addition to his service in the legislature, Ayala is also a social studies instructor in the City of Bridgeport school district.

"I am grateful to Governor Malloy for receiving this appointment and look forward to serving in this new capacity," Ayala said. "Nearly every adult has had some experience at one point or another with the DMV and understand some of the complexities involved in the agency's task. During the last four years, Commissioner Currey has led the department through many changes to make it more effective. She has initiated significant steps towards streamlining, updating and modernizing its systems to not only make it more efficient, but less costly. I want to continue these necessary modernization efforts, and look forward to carrying out these goals with the Governor's administration and the agency's staff."

Ayala holds a bachelor's degree in business administration and a master's degree in education.