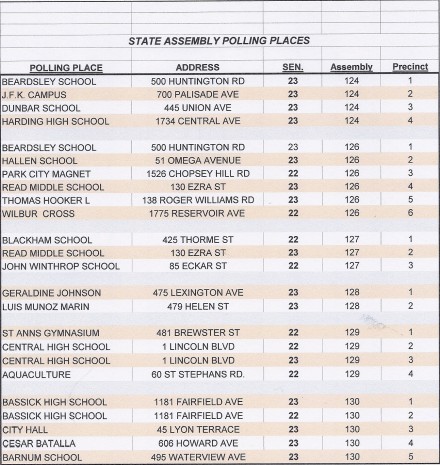 It's crunch time for the respective campaigns gearing up for Tuesday's primary. Citywide there's a Republican primary for governor between Tom Foley and John McKinney as well as a GOP primary for lieutenant governor that includes Bridgeport resident David Walker. In addition we have four Democratic legislative races.

In Connecticut's 22nd Senatorial Marilyn Moore takes on incumbent Anthony Musto. In the 23rd Senatorial Scott Hughes challenges incumbent Andres Ayala.
In the 124th State House District Andre Baker faces Ernie Newton. In the 128th State House District incumbent Christina Ayala's in a battle with Chris Rosario, Teresa Davidson and Dennis Bradley.
Have you voted by absentee ballot? Gee, it seems like half the city has. Just in case you're not sure where you vote, see polling places above. Still not sure, call the Registrar's Office, 576-7281, or check out polling place link