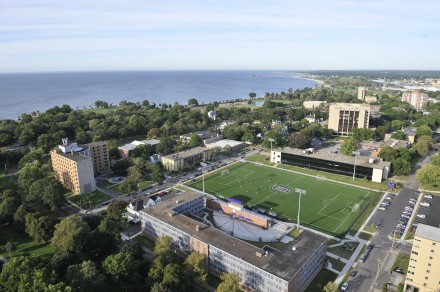 If you're wondering why City Hall has been quiet the past few days, many key administrative staffers are at the University of Bridgeport for a strategic planning session. Like a lot of new administrations, although Joe Ganim had been there before, the first year in office can sometimes appear rudderless especially without crafting a road map to success. Mayor Joe has ordered about 30 members of his administration to join him for two days, Thursday and Friday, in a strategic planning session at the UB South End campus.

The point, says mayoral spokesman Av Harris, is to chart out a new course for the next three years or so.
"The start of a new fiscal year represents the beginning of a new chapter in the administration of Mayor Joe Ganim," says Harris. "When we took office we came in halfway through the fiscal year, inheriting a budget that was $20 million in deficit. This was a budget that was not ours, and a budget in which the priorities were out of whack. Much of the energy of the mayor and the new administration in the past 7-8 months has been focused on tackling that deficit and straightening out the very serious administrative issues we faced, while reorganizing city government in a way that was necessary to better serve the residents of Bridgeport.

"At the direction of the mayor, these strategic planning sessions are necessary to now begin to chart a vision forward for the next three-plus years of this administration. It is a chance for all of us to get focused on our goals, assess our accomplishments thus far, and state out our vision for where we want to go and take the city of Bridgeport into the future."
A number of people wonder if Ganim has the horses to pull the city's financial wagon out of the mud.
Although extremely confident in his decision making, Ganim is not tone deaf to criticism. Information flow to the City Council has been messy, some roles in City Hall not clearly defined, the economic development office rudderless at the top. He just hired Tom Gill to run the office. He recognizes some of his hires are weak links misplaced in their roles. Now into his eighth month of JG2, the Ganim brain is assessing the hires he has made, who will stay, or will go, who will just blow up on their own?
This strategic planning process is also a way for Ganim to gauge the growth of his hires, many of whom had no experience in government service. Will they grow on the job?
Ganim is not the kind of guy who wants you to know what he's thinking. And sometimes he likes to keep his hires on the edge so they walk out the door on their own before he's forced to remove them. Call it Ganim's attrition warfare. Wear them down.
A hallmark of JG1 was his department heads: Public Facilities Director John Marsilio, Finance Director Jerry Baron, Economic Development Director Mike Freimuth, Chief Administrative Officer Dennis Murphy, Office of Police and Management Director Bob Kochiss, and others. But that framework did not begin to mesh until his second full year on the job in 1993. Ganim was elected in November 1991.
How will the current group mesh? And will Ganim's key hires have a different look in 2017?